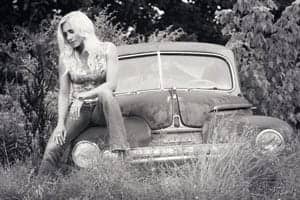 Bruno Independent Living Aids has announced that it will be a major sponsor of the "My Finish Line Tour," a music bus tour featuring country singer Michelle Murray (pictured right) and promoting the motion picture of the same name that celebrates the life of Sam Schmidt, paralyzed IndyCar driver.
Bruno notes that Murray met Schmidt, head of Sam Schmidt Motor Sports (SSM) and founder of Sam Schmidt Paralysis Foundation (SSPF), when she was invited by Michael Andretti to headline a concert to open the 2009 IndyCar Season in St. Petersburg, Fla. The two quickly became friends.
According to a release from Bruno, the current music bus tour is slated to appear in all 50 states in 2013. The tour is intended to promote the movie and also raise money to provide every veteran with disabilities in America a copy of the My Finish Line DVD.
Additional sponsors of the tour include BraunAbility, Delta Airlines, and Firestone.
[Source: Bruno Independent Living Aids]