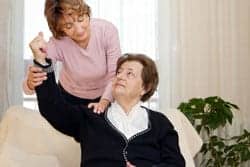 According to researchers from the University of Waterloo and University of Toronto, older adults with musculoskeletal disorders, including arthritis or broken bones, who receive rehabilitation may be less likely to require admission to a hospital or long-term care homes. The study's results also indicated that older patients who receive physiotherapy and occupational therapy in their own home are more likely to be discharged from home care services following treatment.
Researchers add that study participants who received physiotherapy and occupational therapy were more likely to enhance their ability to take care of themselves, perform necessary household tasks, or to achieve independent mobility.
Paul Stolee, PhD, Faculty of Applied Health Sciences at Waterloo, emphasizes that importance of the study's findings, as "Fewer hospital admissions and a decreased demand for home care services would represent a significant reduction in the government's overall health costs."
Stolee adds that the study bucks the conventional belief that the aging population is the largest cause of increasing health care cost. "This study provides evidence that if older people get the right services at the right time, this can actually reduce their cost to the health system, while improving their quality of life," Stolee says.
Stolee and his team note that many older adults could benefit from physiotherapy or occupational therapy than actually receive these services. While access to rehabilitation services has been limited for many older adults, according to the researchers, the Ontario Ministry of Health and Long-Term Care reportedly announced efforts to improve access to physiotherapy, exercise, and fall-prevention classes for older adults.
[Source: University of Waterloo]