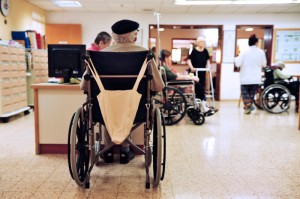 Episodes of hostile and inappropriate behavior among nursing home residents are a worrisome phenomenon that seems to only be increasing, according to a recent report from Weill Cornell Medical College and Cornell University, New York. The report indicates that as many as nearly one in five nursing home residents are involved in this type of elder abuse, described as "at least one negative and aggressive encounter with one or more fellow residents over the previous 4 weeks."
According to a media release from Weill Cornell Medical College, the types of acts themselves are described as those that include acts of verbal or physical abuse, inappropriate sexual behavior, or invasion of privacy, among other incidents, known collectively as resident-to-resident elder mistreatment.
Karl Pillemer, PhD, professor of gerontology in medicine at Weill Cornell and co-author of the study, says the findings suggest the altercations are widespread and common in everyday nursing home life.
"Despite the acute urgency of the problem, resident-to-resident mistreatment is under-reported. Increased awareness and the adoption of effective interventions are greatly needed," Pillemer says.
The media release further reports that research and clinical experience recently has shifted the focus of its study of resident mistreatment to abuse by nursing home staff against vulnerable residents, such as elderly dementia sufferers. But the new study, funded by the National Institute on Aging, suggests that a more frequent threat to residents is aggression committed by other cohabitants.
Pillemer and the study's co-author, Mark Lachs, MD, determined that resident-to-resident elder mistreatment affected 19.8% of residents over a 4-week period. Specific types of mistreatment included verbal incidents, such as cursing, screaming or yelling at another person (16%); physical incidents, such as hitting, kicking or biting (5.7%); and sexual incidents, such as exposing one's genitals, touching other residents, or attempting to gain sexual favors (1.3%). A fourth category, which involved 10.5% of people, included unwelcome entry into another resident's room or going through another resident's possessions.
The research also suggests that individuals who are most likely to be involved in a mistreatment incident are younger, less cognitively and physically impaired, and prone to disruptive behavior, compared to fellow residents. There was no significant difference between men and women, and African Americans were less likely to be involved than non-Latino white and Latino residents. The investigators noted that the study did not distinguish victims from perpetrators of resident-to-resident elder mistreatment.