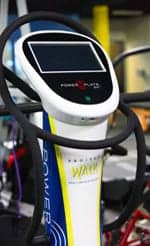 Performance Health LLC, owner and global distributor of Power Plate and bioDensity, has reportedly signed a 3-year partnership with SCI Business Solutions Inc, exclusive operator and franchisor of Project Walk. The partnership has allowed Project Walk's Carlsbad, Calif-based location to receive a custom-branded Power Plate pro7 and Power Plate pro5HP, featuring Project Walk's logo and colors.
Additionally, Project Walk notes that it also received the latest bioDensity system, which will be used to investigate the impact of increasing bone density in those recovering from spinal cord injuries (SCIs).
Brian Malkinson, director of Operations, SCI Business Solutions Inc, calls the partnership an exciting opportunity, "Our partnership with Performance Health Systems, LLC is a prime example of how two companies can work together and learn from one another to bring additional research and awareness through the latest technology to people suffering from paralysis," Malkinson adds.
A news release from SCI Business Solutions Inc states that the strategic partnership will provide clients of Project Walk franchises unlimited access to custom designed Power Plate equipment, which according to the company is based upon scientifically proven exercise protocols using Advanced Vibration technology.
As a result of the reflexive neuromuscular engagement that occurs following the destabilizing effect of high-speed vibration, the company explains, exercise on the Power Plate has been reported to stimulate the natural production of the growth hormone that maintains tissue repair, muscle growth, brain function, and other regenerative body activities.
The addition of Power Plate and bioDensity to the work being conducted by Project Walk Centers creates what Lee Hillman, Performance Health Systems, CEO, designates as "a great partnership. We are excited by the research Project Walk will be conducting with these advanced systems."
Source: SCI Business Solutions Inc