[Editor's Note: This is an occupational therapist's firsthand account of the strategy and methods used at Encompass Health Rehabilitation Hospital of Tinton Falls, NJ, to help COVID-19 patients recover and discharge home.]
By Demetra Dooros, MS, OTR/L, MPH, CSRS
According to the Centers of Disease Control and Prevention (CDC),1 Coronavirus Disease 2019 (COVID-19) is caused by Severe Acute Respiratory Syndrome labeled (SARS)-CoV-2. As of 5/12/2020, there are 1,342,594 cases of COVID-19 in the US and COVID-19 has resulted in the loss of 80,820 Americans.2 New Jersey has been a particularly hard hit state with 139,945 cases and 9,310 deaths as of 5/12/20. Individuals age 65 years or older or anyone with certain underlying medical conditions are at higher risk for severe disease due to COVID-19.3 These premorbid conditions include diabetes mellitus, chronic lung disease, serious heart conditions, severe obesity, chronic kidney disease, liver disease and conditions causing immunosuppression.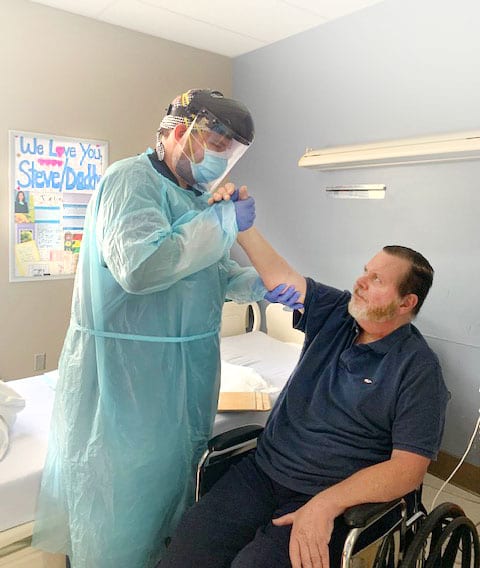 Due to underlying medical conditions, complications from COVID-19, and complications from prolonged hospitalizations and ICU stays a number of COVID-19 survivors require post-acute rehabilitative care for further medical management and interdisciplinary care prior to a safe discharge to the community. During the COVID-19 outbreak, rehabilitation can address prevalent complications including pulmonary, respiratory, and mobility impairments as well as improve quality of life.4 The acute inpatient rehabilitation setting plays a critical role in treatment and rehabilitation of COVID-19 patients. However, there is limited evidence-based literature on the inpatient rehabilitation needs or outcomes for COVID-19 patients. It has been nothing short of incredible to witness our team at the Encompass Health Rehabilitation Hospital of Tinton Falls adapt to the rapidly evolving rehabilitation landscape during the COVID-19 pandemic.As a team, we have worked to develop hospital-wide policies and procedures to provide the best and safest care to our COVID-19 patients.
Clinical Presentation of COVID-19 Patients
According to the CDC,5 the most prevalent premorbid medical conditions among hospitalized adults with COVID-19 include hypertension (49.7%), obesity (48.3%), chronic lung disease (34.6%), diabetes mellitus (28.3%), and cardiovascular disease (27.8%). Following severe COVID-19, prevalent complications include acute respiratory distress syndrome (ARDS), sepsis/septic shock, AKI, cardiac injury and organ failure.6 As a result of these complications in addition to pre-morbid medical conditions, these patients may require treatment at the ICU level. Critical illness polyneuropathy or critical illness myopathy may also occur as a complication of ARDS.
[ RELATED: Managing Pediatric Inpatient Rehab Care During COVID-19 (Video) ]
Following an ICU stay, COVID-19 patients may also exhibit symptoms of post-intensive care syndrome (PICS).7 Symptoms of PICS include ICU acquired weakness, cognitive dysfunction, and mental health conditions such as sleep disturbances and post-traumatic stress disorder (PTSD). Cognitive dysfunction observed in these patients may include memory impairment, impaired sustained attention, difficulty with problem solving, and impaired executive function skills including organization and planning. Furthermore, research has shown that coronaviruses have the potential to infect neurons in the brainstem specifically linked with cardio-respiratory function.8 The SARS-CoV2 infection also leads to systemic inflammation and ultimately a significant neuroinflammatory response. Additionally, severe respiratory failure occurring as a result of COVID-19 elicits hypoxia, which impacts brain function and leads to neurocognitive changes. Neuroinflammation as a result of COVID-19 may also be related to neuropsychiatric pathologies. Therefore, it is clear that rehabilitation programs for SARS-CoV2 survivors must address the potential physical, respiratory, neurological, cognitive, and psychiatric sequelae of this virus.
Cardiovascular diseases are common underlying conditions for COVID-19 patients and are linked with a poorer prognosis.9 A cohort study conducted in Wuhan, China, found that 19.7% of hospitalized patients with COVID-19 had associated cardiac injury.10 Furthermore, the significant inflammatory response from COVID-19 can contribute to vascular inflammation, myocarditis and cardiac arrhythmias. Therefore, the interdisciplinary rehabilitation team must take into account the potential effects of COVID-19 on the cardiovascular system and the presence of underlying comorbidities when establishing the interdisciplinary plan of care.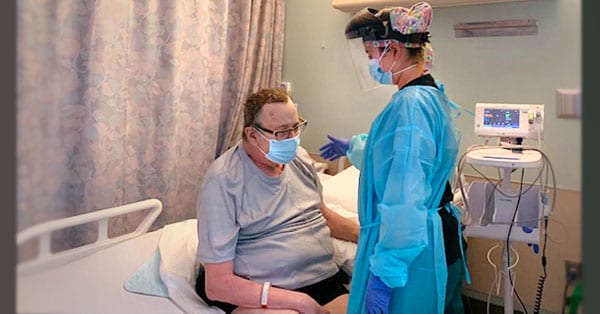 Therapy Considerations for COVID-19 Patients
Rehabilitative care for COVID-19 patients must begin with a comprehensive evaluation resulting in an individualized interdisciplinary plan of care with focus on addressing impairments, improving function, restoring quality of life, and facilitating community re-integration. In some cases, due to the potential for neurocognitive changes resulting from COVID-19, cognitive dysfunction related to PICS, and recent extubation our speech therapy team leader audits all COVID-19 new admission charts. A speech therapy evaluation is ordered when indicated to assess cognition, communication and/or swallowing. For occupational therapists, it is critical to evaluate the patient's capacity to complete IADLs including medication management, financial management, meal preparation, etc.
The psychological impact of this virus must also be considered. Upon admission, COVID-19 patients are screened for depression with the Patient Health Questionnaire (PHQ-2) by the admitting registered nurse. If indicated, a psychologist and psychiatrist are available for telehealth consultation and supportive counseling.
[ RELATED: It's No Hoax. Brains, Lungs, COVID-19 ]
Shortness of breath is one of the main symptoms of COVID-19. Therefore, it is important to educate this patient population on proper breathing techniques and energy conservation. According to Nebraska Medicine,11 breathing exercises are the recommended method for lung expansion for all COVID-19 patients. Furthermore, incentive spirometry is indicated if the patient is capable of using it properly; however, there is no minimum percentage according to Nebraska Medicine. For occupational therapists, ADL training therapy sessions are a great opportunity to educate patients on energy conservation principles including pacing, positioning, prioritizing and planning ahead. Due to isolation precautions, consider use of a restorator, a portable upper extremity ergometer, or walking for endurance training.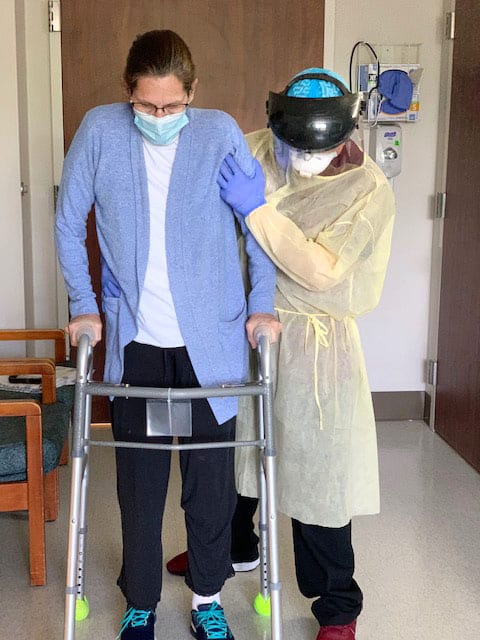 Therapists working with this patient population at our hospital have noted high incidences of tachycardia as well as significant fluctuations in blood pressure with some COVID-19 patients. Close monitoring of vital signs is critical for this patient population. Some patients may require telemetry monitoring during their rehabilitation stay. Due to the medical complexity of these patients, close communication and collaboration is critical amongst the interdisciplinary team.
During the occupational therapy initial evaluation, our COVID-19 patients are provided with an educational and resource packet specific to COVID-19. Areas addressed in our educational and resource packet include information regarding the Coronavirus Disease 2019, vitals monitoring, breathing techniques, stress and relaxation techniques, ADLs/ energy conservation, HEP and exercise log, oxygen use and oxygen safety. This packet also includes information regarding online support groups and community resources.
Balancing Social Distancing With Family-Caregiver Involvement
Given the widespread of community transmission of COVID-19, it is critical for rehabilitation hospitals and long-term care facilities to have strict no-visitor policies in order to maintain the highest level of safety for patients and staff members. Due to the hospital's no visitor policy, new practices needed to be developed to include patient family members and caregivers in the plan of care and discharge planning process to facilitate a safe transition to the community. In order to adhere to social distancing guidelines, our hospital implemented the use of iPads and Kindle Fires for remote observation of therapy sessions and remote family training sessions. Family training sessions can be modified due to the specific patient and family needs. For lower-level patients requiring more hands-on-assistance, multiple remote family training sessions can be conducted. It is beneficial to have an "ADL suite" set-up for therapists to simulate transfer training, Hoyer lift, ADL training remotely with family/caregivers if necessary. It is critical to establish set times for family training and observation sessions to ensure availability.
In addition, the use of video conferencing through iPad/Kindle use allows for our patients to "visit" with their family/ caregivers remotely. Due to prolonged hospitalizations for COVID-19, some of our patients have gone weeks without seeing their loved ones. It is often an emotional and heartwarming moment when our patients can be reunited with their family member virtually.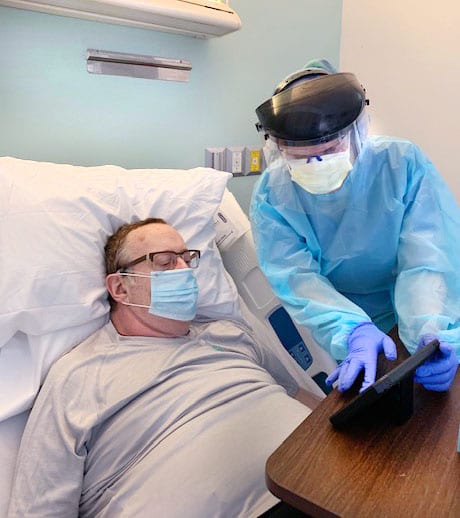 Significance of Stress Management, Relaxation Techniques and Coping for COVID-19 Survivors
 The current outbreak of coronavirus disease 2019 (COVID-19) can cause a great deal of stress and worry. The majority of our rehabilitation patients coping with acute complications from COVID-19 have expressed a great deal of anxiety due to the quick onset and severity of their illness. Most recently, researchers in China examined the prevalence of PTSD among individuals who survived COVID-19.12 Research has shown that survivors of COVID-19 are at risk of experiencing anxiety, depression, insomnia, posttraumatic stress symptoms, loneliness and anger. It is also important to note that many of our COVID-19 survivors may also be dealing with the added stress of having family members sick and/or hospitalized with COVID-19. Tragically, some of our COVID-19 survivors are even dealing with the recent loss of immediate family members and close friends as a result of this novel virus. Therefore, it is critical to address the psychosocial issues unique to this patient population.
[ RELATED: Marijuana temporarily blocks cell receptors for COVID-19 ]
As mentioned prior, the PHQ-2 is utilized at admission to screen for depression. Additionally, at our hospital we are in the process of rolling out a telehealth support group for COVID-19 patients led by a psychologist. As physical, occupational and speech therapists, it is critical that we educate our patients on strategies to cope with the heightened levels of stress and anxiety during this pandemic. We have a role in educating our patients on healthy habits including the importance of sleep, the importance of staying hydrated and eating balanced meals, rest breaks and maintaining an exercise routine. Furthermore, we must educate our patients to manage how they consume information during this pandemic. While confined to their room at inpatient rehabilitation, the TV/cell phone may be a primary source of leisure. However, we can inform our patients of the benefits of taking time away from listening to the news and reading news stories regarding COVID-19, as this can be upsetting and overwhelming. It can be beneficial to provide other options for leisure including word search puzzles, word finds, cards, music and adult coloring books.
For COVID-19 patients dealing with anxiety and stress, it can be helpful to kick off your therapy session with a guided meditation, a progressive relaxation activity, chair yoga or tai chi. Luckily, there are a number of resources at our fingertips which can allow us to best educate our patients on relaxation and stress management techniques. The UCSD Center for Mindfulness13 offers more than 30 free, pre-recorded, short mindfulness and compassion meditations that can easily be accessed by a patient's personal phone or hospital iPad/Kindle Fire. Also, there are a number of meditation apps that can be downloaded for free including Stop, Breathe & Think, Calm, Headspace and Intimind (Spanish language). Chair yoga can be an excellent option for light exercise which also incorporates breathing training for COVID-19 survivors. The New Brunswick Breathe Lung Association14 established YogaBreathe as a relaxing chair yoga sequence developed specifically for respiratory patients and can be found for free at the following link https://nb.lung.ca/yogabreathe.
Outcomes for COVID-19 at Encompass Health Rehabilitation Hospital of Tinton Falls, NJ
 At inpatient rehabilitation facilities, outcome measures are critical to monitor functional improvements of our patients, to help with clinical decision making and establishing the effectiveness of treatment. In addition, documenting improvements in functional exercise capacity and endurance can be critical in building patients' self-confidence in preparation for discharge.
[ RELATED: When will the pandemic end? Without no available treatment as a safety net, volunteers sign up to test a vaccine. ]
The 6-minute walk test (6MWT) is a widely used assessment of functional exercise capacity. The 6MWT was assessed by PT/OT on admission and discharge for twenty-eight patients as an outcome measure of functional exercise capacity. If indicated based on patient status, oxygen saturation and pulse rates are closely monitored during the walk tests. All patients demonstrated an improvement in distance walked. On admission, 74.5 feet was the average distance walked and the average distance walked on discharge was 366.6 feet. Therefore, this demonstrates a 392% average improvement of distance walked and a significant improvement in functional exercise capacity. The modified 30-second sit-stand test was also administered on admission/ discharge to assess for lower extremity strength and endurance. Among twenty-seven patients, the average on admission was 4 repetitions and the average repetitions on discharge was 9.5 sit to stand repetitions. This demonstrates a 137.5% improvement for the modified 30-second sit-stand test. Unfortunately, some patients had to be excluded from analysis due to inability to safely perform the above outcome measures due to severe physical limitations and/or weight bearing status.
Fifteen out of 38 patients were admitted to our hospital on oxygen. One patient admitted on oxygen was excluded from analysis due to acute care transfer. Twelve out of 14 patients (85.7%) were weaned off oxygen to room air prior to discharge. Of the two patients not able to be weaned off of oxygen, one patient was weaned from 4L to 3L and another patient improved from 4L to 2L. Physical and occupational therapists play a vital role in closely monitoring and documenting oxygen saturation at rest and with activity (ADLs, therapeutic exercises, functional mobility, etc.). Furthermore, patients are educated about parameters for SpO2 and encouraged to monitor SpO2 with portable pulse oximeter in room if cognitively intact.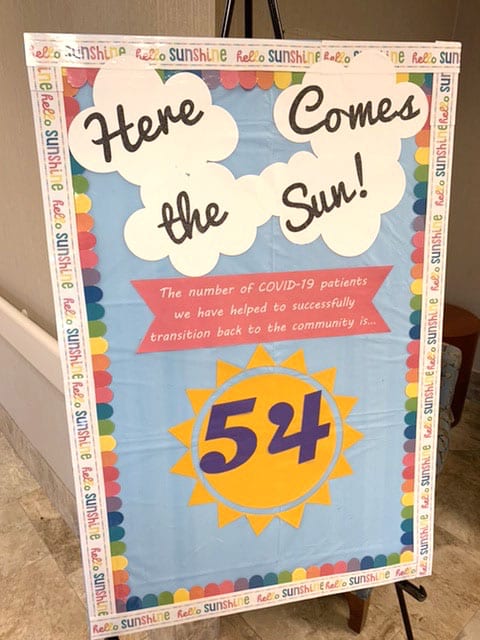 Overall, as of May 8, 2020, the facility has admitted 55 patients with COVID-19. At this time 78% of patients discharged back to the community, 9.7% of patients discharged to skilled nursing facilities, and 12.2% of patients discharged to acute care.
 As a way to celebrate our patients' success and journey towards COVID-19 recovery, a "Code Sunshine" is announced as they are being discharged. During our "Code Sunshine" staff members gather at specific check points to cheer, clap, and celebrate these patients with "Here Comes The Sun" playing over the loudspeaker.  While navigating the uncharted territory of the COVID-19 pandemic, the team at Encompass Health has been successful with transitioning our COVID-19 patients back to the community by embodying these core values: set the standard, lead with empathy, do what's right, focus on the positive, and connect across disciplines to prevail stronger together.
References
1. CDC. (2020, May 12). Coronavirus Disease 2019 (COVID-19): Coronavirus disease basics. https://www.cdc.gov/coronavirus/2019-ncov/faq.html#Coronavirus-Disease-2019-Basics
2. CDC. (2020, May 12). Coronavirus Disease 2019 (COVID-19) Cases in the US. https://www.cdc.gov/coronavirus/2019-ncov/cases-updates/cases-in-us.html
3. CDC. (2020, April 15). Coronavirus Disease 2019(COVID-19) People who are at higher risk for severe illness. https://www.cdc.gov/coronavirus/2019-ncov/need-extra-precautions/people-at-higher-risk.html
4. Landry MD, Tupetz A, Jalovcic D, Sheppard P, Jesus TS, Raman SR. The Novel Coronavirus (COVID-19): Making a Connection between Infectious Disease Outbreaks and Rehabilitation. Physiotherapy Canada. 2020. Advance online article. https://www.utpjournals.press/doi/abs/10.3138/ptc-2020-0019
5. Garg S, Kim L, Whitaker M, et al. Hospitalization Rates and Characteristics of Patients Hospitalized with Laboratory-Confirmed Coronavirus Disease 2019 — COVID-NET, 14 States, March 1–30, 2020. CDC Morbidity and Mortality Weekly Report. 2020;69(15). https://www.cdc.gov/mmwr/volumes/69/wr/mm6915e3.htm
6. Sheehy LM. Considerations for Postacute Rehabilitation for Survivors of COVID-19. JMIR. 2020;6(2). https://pubmed.ncbi.nlm.nih.gov/32369030/
7. American Physical Therapy Association. (2020, May 5). Physical Therapist Management of Patients with Diagnosed or Suspected Covid-19. https://www.apta.org/PatientCare/COVID-19/PatientManagementAdult/
8. Steardo L, Steardo L Jr, Zorec R, Erkhratsky A. Neuroinfection may potentially contribute to pathophysiology and clinical manifestations of COVID-19. ACTA Physiologica. 2020. https://doi.org/10.1111/apha.13473
9. Vetta F, Vetta G, Marinaccio L. Coronavirus Disease 2019 (COVID-19) and Cardiovascular Disease: A Vicious Circle. The Journal of Cardiology and Cardiovascular Research. 2020;1(2):1-12.
10. Shi S, Qin M, Shen B, Cai,Y, Lui T, et al. Association of Cardiac Injury With Mortality in Hospitalized Patients With COVID-19 in Wuhan, China. JAMA Cardiology. 2020; March 25. doi: 10.1001/jamacardio.2020.0950
11. Nebraska Medicine. Respiratory Care Management of Patients with Suspected/ Positive COVID-19. (2020, May 8).
12. Bo H, Li W, Yang Y, et al. osttraumatic stress symptoms and attitude toward crisis mental health services among clinically stable patients with COVID-19 in China. Psychological Medicine. 2020;1-7. doi: 10.1017/S0033291720000999
13. UCSD Center for Mindfulness. Short Mindfulness and Compassion Meditations. https://soundcloud.com/ucsdmindfulness/sets/short-meditation-sessions
14. Breathe: The Lung Association (2018, May 12.) YogaBreathe. https://nb.lung.ca/yogabreathe