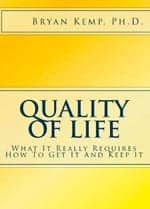 A new book that can be used by patients and therapists interested in understanding and improving quality of life is now available. The book, titled "Quality of Life: What It Really Requires, How To Get It And Keep It," was authored by Bryan Kemp, PhD, and may serve as a resource for therapists, health care professionals, and rehabilitation managers. The book also provides information to readers about how individuals in difficult circumstances, such as those living with a disability, can experience a high quality of life.
In the book, Kemp highlights four key aspects in the goal of understanding and improving quality of life. The first emphasizes the importance of taking the patient's point of view regarding their quality of life, bucking the "objective" approaches to quality of life that highlight standardized measures of factors such as education, possessions, and physical abilities. Secondly, the book offers readers strategies for measuring quality of life, which may prove beneficial for both clinical and outcome research purposes.
The third aspect addresses what research indicates are factors linked to both high quality of life and low quality of life. Lastly, the book provides readers a step-by-step approach designed to improve quality of life over a relatively short period of time. According to Kemp, the book may serve as a valuable tool for therapists to incorporate into their practices.
Kemp is a distinguished psychologist who received Lifetime Achievement Award in 2012 from the American Psychological Association recognizing his contributions to rehabilitation research and practice. He spent the last 30 years assessing the existent literature, conducting research studies, and interviewing patients to compile the book. Kemp notes that the last 7 years of his career were spent as a severely disabled person, informing his perspective on the book.
The book is available through Amazon.com in an electronic and paperback version.
To learn more, click here
Source: Bryan Kemp