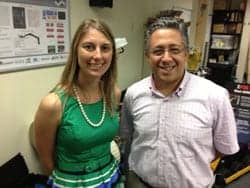 The National Science Foundation (NSF) has reportedly presented a 5-year award to a research team at Worcester Polytechnic Institute (WPI), funding a project that aims to provide personal assistant robots to older adults with age-related disabilities. The $125,000 award stems from collaboration between the university's Robotics Engineering Program and Social Sciences and Policy Studies department, according to a university news release.
The researchers note that a key component of the project centers on introducing the robots in a manner intended to avoid stigmatization or stereotyping of or discrimination against older adults. The release also states that Ta?kin Padir, PhD, (pictured far right) assistant professor of robotics engineering at WPI, will serve as principal investigator for the NSF award, alongside co-investigator Jeanine Skorinko, PhD, (pictured above, left) associate professor of psychology, director of WPI's Psychological Science Program.
Padir adds that the design of the robots "is going to be very user-centered." Padir also states that the award includes a collaboration with the University of Massachusetts Medical School's Center for Integrated Primary Care
Skorinko explains that WPI students will develop personal assistant robots intended to help with shopping and assistive tasks such as carrying trays or purses. As the project progresses, Skorinko says, students will also design companion robots.
The release reports that with the award, researchers will oversee 10 undergraduate capstone design projects that will investigate, design, implement, and validate novel robotic technologies engineered to assist individuals with general and age-related disabilities.
The project aims to allow a new generation of engineering students to become knowledgeable and sensitive to the needs of individuals with disabilities. The ultimate goal, the release notes, is to equip students with multidisciplinary design and analysis skills in order to significantly advance the field of robotics and contribute to the deployment of robots in direct collaboration with humans.
David Cyganski, WPI dean of engineering, ad interim, states, "Robotics for disability remediation is a socially important field and WPI is very excited to be at the forefront of this rapidly expanding discipline."
Source: WPI