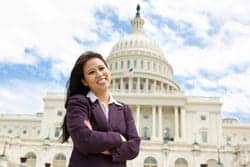 A total of 750 occupational therapy clinicians, educators, and students from across the US convened on Capitol Hill September 30 during the American Occupational Therapy Association's (AOTA) "Hill Day" to discuss key legislative issues impacting the profession and the state of healthcare.
The annual event is intended as an opportunity for occupational therapy professionals to bring their concerns to their state's lawmakers, offer solutions, ask questions, and listen to guest speakers.
Gail Fisher, MPA, OTR/L, FAOTA, American Occupational Therapy Political Action Committee (AOTPAC) chair, states that, "Meeting with legislators and their staff can be an intimidating but empowering experience. I expect Hill Day participants to be more willing to help in the future with grassroots lobbying and supporting AOTPAC so that our collective voice is heard not only on Hill Day, but year-round."
An AOTA news release reports that Hill Day participants advocated a variety of topics during the event, including urging congressional support to pass the Medicare Access to Rehabilitation Services Act, designed to repeal therapy caps that limit Medicare coverage of outpatient occupational therapy that is medically necessary for rehabilitation services.
Participants also sought support for the Rehabilitation Improvement Act, a bill intended to improve, coordinate, and enhance rehabilitation research at the National Center for Medical Rehabilitation Research (NCMRR) at NIH.
The AOTA notes that the goal of Hill Day centers on educating legislators about occupational therapy's role in meaningful and effective efforts to improve society's health, along with improving the healthcare system.
To learn more about AOTA's Legislative Action Center, click here
Source: AOTA