While the hands and natural senses have long been the foundation of therapeutic treatment, patient needs oftentimes may call for mechanized support or computerized technology that can help therapists optimize the time they spend helping patients recover function. To meet this challenge, rehabilitation facilities must have a reliable, facility-based technology infrastructure that is safe and versatile enough to serve individuals affected by a wide variety of conditions and co-morbidities.
The market for these products continually evolves as manufacturers improve existing technologies and introduce new devices especially for the rehabilitation profession. To help therapists remain abreast of important developments in facility-based equipment, Rehab Management brings together this showcase of products designed to stand up to the heavy demands of busy inpatient and outpatient clinics.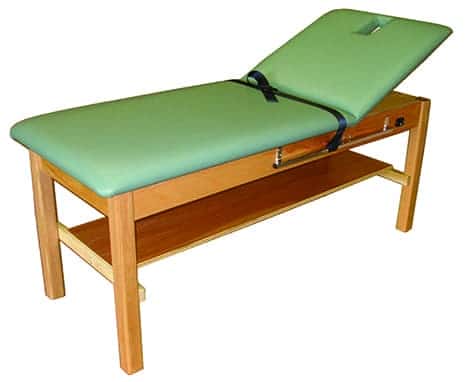 Back Extension Table
Bailey Manufacturing Company, Lodi, Ohio, offers the Back Extension Table, which is designed for practitioners of the McKenzie Method. It features a narrow width and a face slot to ease manual low back therapy procedures, as well as a fully adustable pelvic strap designed to stabilize patients of every stature. Rounded corners and a 1-inch-thick top ensure therapist and patient comfort. Customization options include upholstery colors, sizes, and either natural or dark walnut wood finishes. Weight capacity: 350 pounds.
For more information, contact Bailey Manufacturing Company, (800) 224-5390; www.baileymfg.com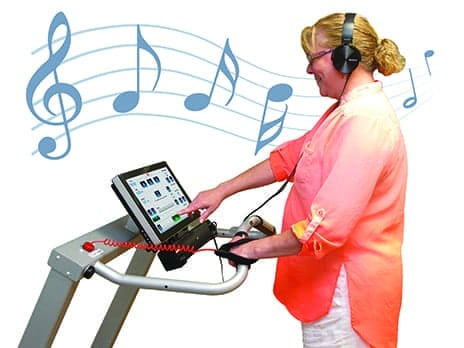 Gait Trainer 3 With Music-Assisted Therapy
The Gait Trainer 3 treadmill, from Biodex Medical Systems Inc, headquartered in Shirley, NY, features sensorimotor music enhancements developed in collaboration with physical and music therapists. The library of tempo-to-cadence-matched music selections are composed to inspire correct movement. Its instrumented track detects where each foot strikes as a patient walks, and displays those footsteps on a large LCD screen. The Gait Trainer's track records and analyzes step length, step speed, and step symmetry, documenting the effectiveness of gait therapy. This combination of music, biofeedback and gait repetition is intended to enhance neuroplasticity, to recover movement lost to injury or disease.
For more information, contact Biodex Medical Systems Inc, (800) 224-6339; www.biodex.com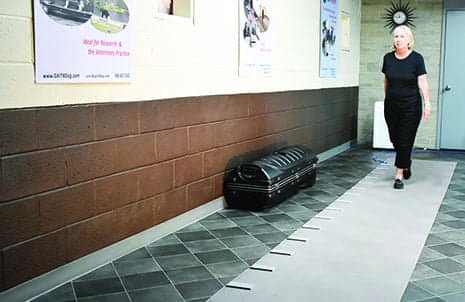 Portable Gait Analysis
GAITRite gait analysis systems, from CIR Systems Inc, Franklin, NJ, are designed to accurately capture objective data necessary to document patient condition and progression. Reporting options allow for tailorable reports with multiple export functions available for clinical and research applications. GAITRite Systems are designed to easily integrate with a variety of EMG, Motion Capture, and various other systems. Additional features include portability, versatility, ease of use, and a setup time in less than 75 seconds.
For more information, contact CIR Systems Inc, (888) 482-2362; www.gaitrite.com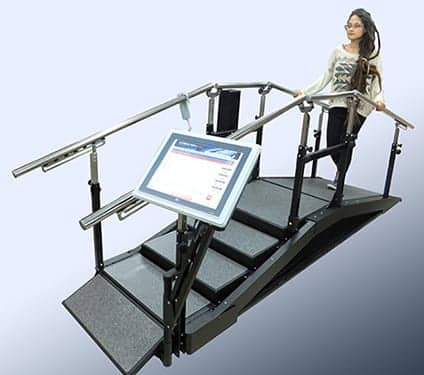 DST8000 TriplePro Stair Trainer
Clarke Health Care, Oakdale, Pa, has developed the Dynamic Stair Trainer DST8000 TriplePro as new technology for the therapy suite. The device combines elevating steps, a gradient incline rising to 26 degrees, and a full horizontal parallel bar in one apparatus. TriplePro is designed to allow clients to begin stair climbing at a level appropriate to their ability and practice skills for the urban environment. An onboard computer displays the patient's performance in past and current sessions. It also compiles DST Factor to estimate potential for future improvement and builds reports for therapists summarizing and comparing clients and sessions. The DST8000 TriplePro was engineered with the aim of enhancing the services offered by therapists.
For more information, contact Clarke Health Care Products Inc, (888) 347-4537; www.clarkehealthcare.com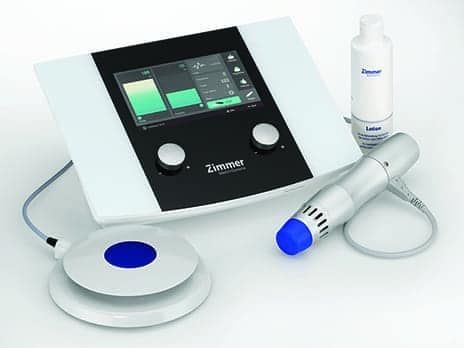 Radial Pulse Therapy Unit
EnPuls, available from Dynatronics, Salt Lake City, is an innovative, compressor-free, high-tech ballistic mechanism with an electromagnetic drive system. The handpiece contains a projectile that is accelerated through the electromagnetic transfer of kinetic energy. This kinetic energy is then transformed into impact energy, delivering radial pulses directly into the target tissue where traditional soft tissue therapy techniques cannot reach. A heavy-duty, ergonomic, aluminum handpiece delivers optimal energy to the patient while providing optimal protection against vibrations to the hands of the therapist.
For more information, contact Dynatronics, (800) 874-6251; www.dynatronics.com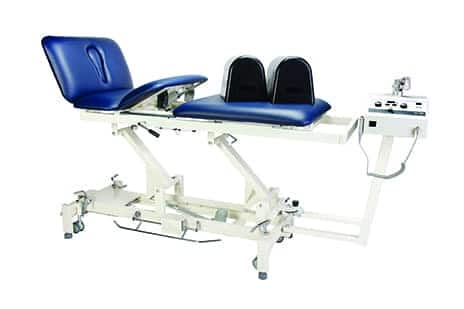 Traction Table
The EU300 Traction Table, offered by Chino, Calif-based Everyway4all, can be used by physiotherapists to perform traction and decompression therapy as a way to treat patients experiencing pain and limited function due to lower back and neck conditions. The EU300 Traction Table standard package is equipped with an extension cord, 2 x Bolsters, and (L) 60° + (R) 60° swivel arm of various angle pulls. The optional CT850 Cervical Traction Unit and optional Thoracic & Lumbar Traction Belts are designed to help perform lumbar and cervical traction.
For more information, contact Everyway4all, (909) 606-8889; www.everyway4all.com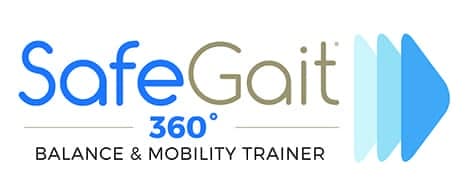 Rehab Reinvented
Gorbel Rehabilitation, Victor, NY, reports that Rehab Centers nationwide are choosing the SafeGait 360 Balance and Mobility Trainer to reinvent their delivery of rehabilitation. During traditional rehab, therapists manually provide support and fall prevention, often requiring multiple therapists to work with a single patient. SafeGait 360 is a bodyweight support and fall protection system that minimizes the risk of injury and facilitates a productive 1:1 therapist/patient interaction. The SafeGait 360 is an all-in-one system that supports safe locomotion and gives therapists the ability to challenge patients in functional "real-world" scenarios, which are often difficult or too risky to simulate.
For more information, contact Gorbel Rehabilitation, (844) 846-8744; www.safegait.com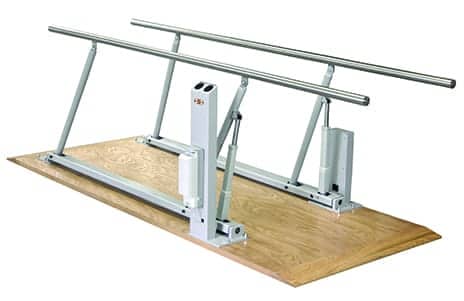 Electric Height & Width Parallel Bars
The new model 1357 Electric Height & Width Parallel Bars from Haussmann Industries Inc, Northvale, NJ, are designed to provide exceptional innovation for parallel bars. The design allows the bars to lower off the end of the platform to assist a patient standing from a wheelchair. The large range of adjustability makes the bars useful for both adult and pediatric patients for a variety of activities including walking, gait training, side stepping, and sit to stand activities. The battery power eliminates the need for floor outlets or placement near a wall and also eliminates trip hazards seen with corded products. Model 1357 Electric Height & Width Parallel Bars have a capacity of 600 pounds.
For more information, contact Haussmann Industries Inc, (888) HAUSMANN; www.hausmann.com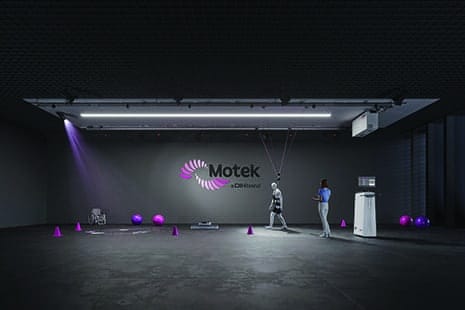 3D Body Weight Support System
Motek, a DIH brand, headquartered in Norwell, Mass, developed the RYSEN as a next-generation 3D body weight support system. Now available in North America, the RYSEN's technical design combines vertical and horizontal assistive forces, offering an intuitive therapy setup with freedom of movement in natural conditions. Following motor learning principles, the RYSEN was designed to cover critical ground for clinical and research purposes, allowing patients to transition into daily life activities by safely exercising at their optimal challenge point. The RYSEN system is intended for patients with disorders affecting locomotion, such as stroke, spinal cord injury, or amputations, who are not able to perform rehabilitation training without bodyweight support.
For more information, contact DIH USA, (877) 944-2200; www.hocoma.com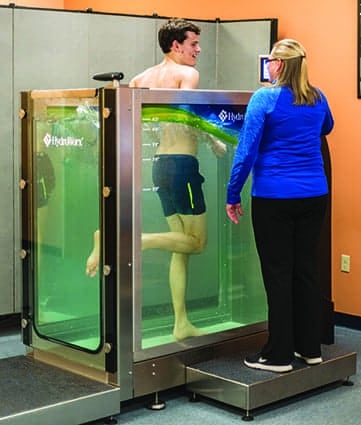 Aquatic Therapy System
The HydroWorx 200, from HydroWorx, headquartered in Middletown, Pa, is made for small spaces and existing facilities. Designed specifically for rehabilitation, the HydroWorx 200 utilizes warm water and the company's underwater treadmill technology to help deliver superior outcomes for patients. The treadmill is engineered to fit into a compact 100 square feet and through a standard 36-inch door. With a compact aquatic treadmill such as the HydroWorx 200, therapists can provide the benefits of land movement without the additional impact and stress on patients' joints and muscles.
For more information, contact HydroWorx, (800) 753-9633; www.hydroworx.com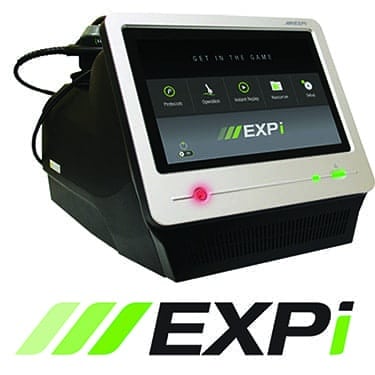 Deep Tissue Therapy Laser
LightForce Therapy Lasers, New Castle, Del, is a therapeutic laser manufacturer offering advanced rehabilitation solutions to healthcare providers. With excellent customer service and an ongoing investment in research, LightForce strives to provide its customers with superior products designed to improve therapeutic outcomes. The EXPi Therapy Laser is a high-power technology (0.5 W to 25 W) that allows clinicians to deliver treatments quickly and efficiently. Optimized for outcome improvement, the included influence technology is engineered to offer the flexibility of custom treatment options (both on and off contact) while ensuring consistent results.
For more information, contact LightForce Therapy Lasers, (877) 627-3858; www.lightforcelasers.com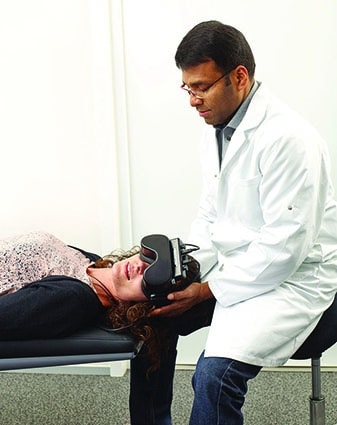 Vestibular Testing System
VisualEyes 505, from Micromedical by Interacoustics, Chatham, Ill, is built to offer ideal conditions for fixation-free observation and recording of eye movements during Spontaneous testing, Positional and Dix-Hallpike testing, Head Shaking testing, and User defined testing. The system incorporates goggle design and features a built-in fixation light, side-mounted camera models, convenient side remote button to start video recordings, and a completely light tight fit. One or two USB cameras can connect directly to a laptop or a desktop computer. Infrared illumination and high-resolution cameras with focus adjustment allow for superior image quality. Both eyes and situation camera images can be displayed on the screen.
For more information, contact Micromedical, (800) 947-6334; www.micromedical.com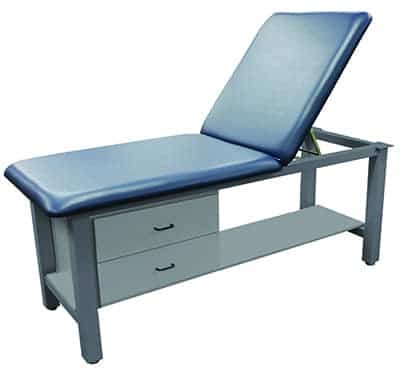 Treatment Table
The Aluma Elite Basic Treatment Table from Pivotal Health Solutions, Watertown, SD, can function in a variety of settings because of its durable H-brace aluminum construction and multiple configurations that are available. This dependable table has a load capacity of 650 pounds and has patient-friendly options that include a nose hole and 70-degree manual lift back. The table, available from the company's PHS Medical brand, can be customized to meet a practice's specific needs by adding length or width, laminate shelves, or a cabinet that can be mounted on either end.
For more information, contact Pivotal Health Solutions, (800) 743-7738; www.pivotalhealthsolutions.com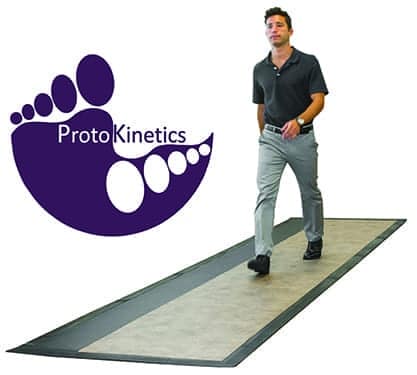 Zeno Electronic Walkaway System
Managing and synthesizing accurate gait data is essential to outcomes-driven healthcare. The Zeno Walkway from ProtoKinetics, Havertown, Pa, has a wide surface that allows for the capture of assistive device performance in addition to the loading patterns of the patient's footsteps. PKMAS software is engineered to automatically eliminate walker tracks, while expertly identifying overlapping steps, to provide robust temporal-spatial measurements for even the most complicated gait patterns. Recent implementation of the enhanced Gait Variability Index (eGVI), automated Four Square Step Test, and Limit of Stability Test are examples of rehabilitation-related outcome measures which may assist in clinical decisions to plan therapy and discharge from the hospital.
For more information, contact ProtoKinetics, (610) 449-4879; www.protokinetics.com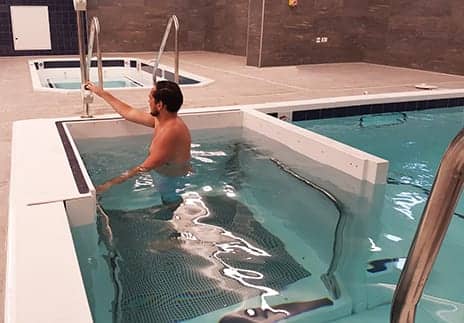 Hydrotherapy Pool
SwimEx, headquartered in Fall River, Mass, introduces the 1500 T hydrotherapy pool, which has a 5-foot x 5-foot zero-entry lift that doubles as an exercise and treatment area. The easy-access pool also features a multi-depth treatment zone. Use the lift platform as other clients exercise in the 4-, 5- or 6-foot depth areas. Additional features include a 99-speed water current to measure progress from one session to the next, a still water area, and stairs for functional exercises. The interior can be customized with integrated treadmills, box steps, and benches.
For more information, contact SwimEx, (800) 877-7946; www.swimex.com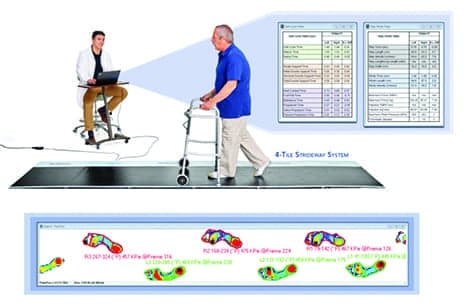 Gait Analysis System
Strideway, from Tekscan, South Boston, is designed to simplify the gait analysis process and features easy access to essential gait parameters and a platform that is flexible in length. Strideway provides pressure information, as well as spatial, temporal, and kinetic parameters for a complete gait analysis. Performing an evaluation is simple and takes only a few minutes to complete. With a wider active area and flush surface, Strideway minimizes trip hazards and easily accommodates patients with mobility aids or gait dysfunctions.
For more information, contact Tekscan, (800) 248-3669; www.tekscan.com/strideway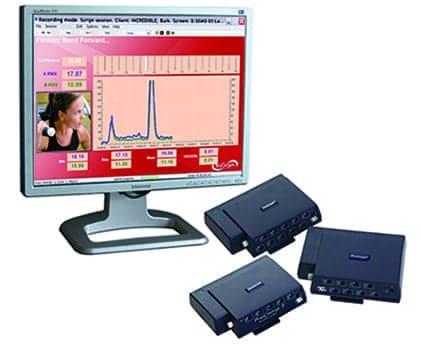 Assessment And Biofeedback Instrument
Thought Technology Ltd, Montreal, manufactures medical equipment that measures and provides biofeedback training on Surface Electromyography (SEMG), Range of Motion (ROM), Muscle Testing, Algometry, Respiration, Heart Rate Variability (HRV), Skin Conductance and Peripheral Temperature. The system includes BioGraph Infiniti software, Rehab Suite Add-on and a comprehensive clinical guide, and offers several options. These include: the ability to interface to isokinetic machines such as Biodex System; wireless transmission with Tele-Infiniti CF Bluetooth Card; and MyoScan-Z sensor, a unique EMG sensor with built-in impedance checking.
For more information, contact Thought Technology Ltd, (800) 361-3651; www.thoughttechnology.com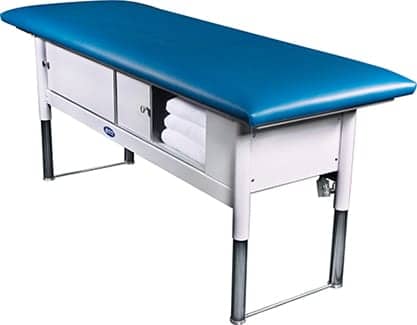 Treatment Table
Tri W-G, Valley City, ND, strives to build products with the strength and safety that customers and their patients need. The company's treatment tables are motorized hi-lo and are made to support 500 pounds of weight and to meet the highest safety standards. Features include a unique storage shelf that can be enclosed with sliding doors, as well as motorized raised back and leg section options.
For more information, contact Tri W-G, (800) 437-8011; www.triwg.com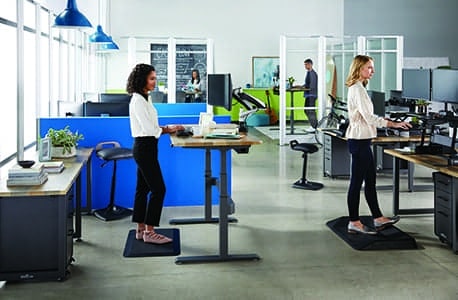 Standing Desk
The VARIDESK ProDesk 60 Electric, from Varidesk, is made with commercial-grade materials and is designed to assemble in less than 5 minutes while being stable at any height. Each desk features a heavy-duty laminate finish as well as a sturdy steel frame with a stability crossbar. This desk also offers ample work space and has three programmable settings to easily and quietly adjust to heights up to 50.5 inches.
For more information, visit Varidesk, (800) 207-2587; www.vari.com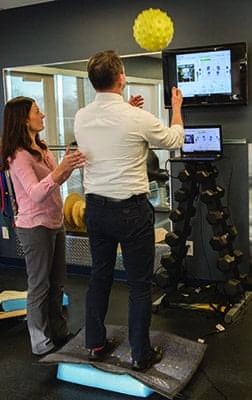 Balance System
Vista Medical Ltd, Winnipeg, MB, Canada, offers the new BodiTrak Balance System, designed to assess, train, and document a patient's balance. It features a rugged, portable, and flexible sensing mat for seat and bed pressure mapping systems, and is built to easily assess clients and generate progress reports. The BodiTrak Balance System is also built to function as an intuitive biofeedback tool.
For more information, visit Vista Medical Ltd, (800) 822-3553; www.boditrak.com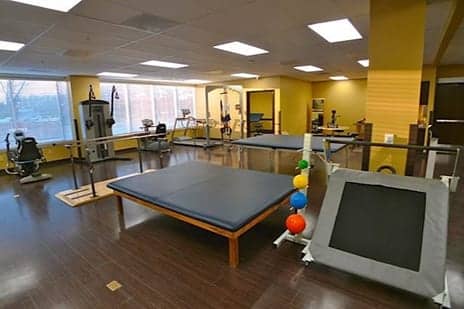 New And Pre-Owned Rehab Equipment And Supplies
Founded in 1990, Vonco Medical, Dallas, is an independent dealer specializing in new and pre-owned physical therapy equipment and supplies. Equipment from a wide variety of brand names such as Biodex, Richmar, Mettler, Chattanooga, Armedica, Sci-Fit, Shuttle Systems, Swimex, Clinton, Haussman Industries, and many more are available at competitive prices. Additional company offerings include nationwide consolidated deliveries and installs, biomed and service opportunities, and a highly trained and educated salesforce.
For more information, contact Vonco Medical, (800) 972-6461; www.voncomed.com