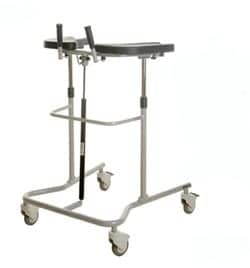 Walkers available through Patterson Medical aim to provide support to postop patients when early walking exercise is indicated. The Kinsman Enterprises EVA Support Walkers, or "Cardiac Walkers" feature step-on locking brakes on two casters.
The products are available in Adult Pneumatic, which adjusts from 35.5 inches to 51.25 inches and is designed to accommodate patients up to 6 foot, 5 inches high; Youth Manual, which adjusts manually from 29 inches to 41 inches; and EVA Electric. The battery-operated EVA Electric is designed to adjust from 36.5 inches to 50 inches and assist users to a standing position. The product also has a lifting capacity of 220 pounds and weight capacity of 333 pounds.
The EVA Walkers' directional casters are engineered to align the rear casters in order to track in a straight line, assisting the user in controlling the direction of the walker. The company adds that the walkers are available in Home style to accommodate narrow hallways and doors, and Hospital style, providing a wider entrance for wheelchair use in most medical institutions.
For more information, visit www.pattersonmedical.com
[Source: Patterson Medical]