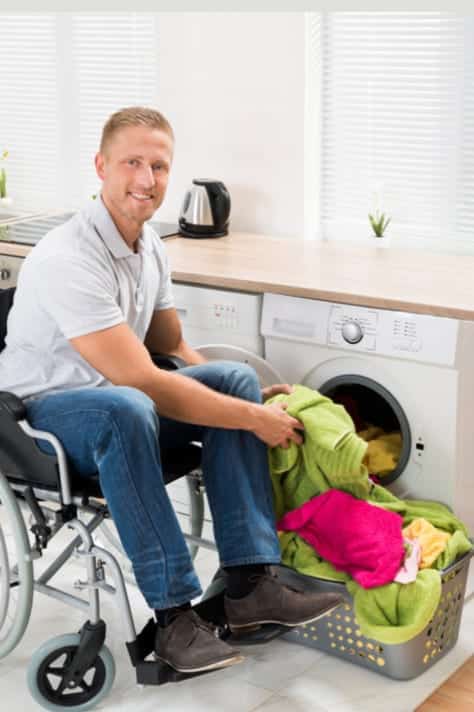 by Katherine Howe, MsPT, ECHM
Any acute care physical therapist (PT) or occupational therapist (OT) recognizes the rigor of the job. On any given day in the hospital many patients will have to be seen, and the treatment session generally will focus on the demands of functional mobility — getting up to the edge of the bed, transferring to a bedside commode or chair, and if the patient is able, ambulation. In addition to the physical demands of the work, the acute care therapist oftentimes will have to review a patient's medical chart prior to the session and discuss concerns with the patient's nurse or physician. The workday can include a dizzying succession of conversations with other therapists, nurses, doctors, case managers, patients, and family members.
Being an acute care therapist is a complex job. It demands attention to detail and outstanding communication skills. It also requires an above-average level of physical strength and endurance.
I am 58 years old and have worked part-time at an acute care hospital for 17 years, six of those years working full-time in a long-term acute care unit (LTAC). I recognize that soon I will be unable to maintain the rigorous physical demands of inpatient care. I take pride in maintaining the needed level of fitness required for acute care hospital work, but I also take pride in being injury-free. I would never want to feel less than 100% in what I could offer in my position as a physical therapist in the hospital, which brought me to a dilemma. I needed a job that would utilize my skills and experience in the acute care setting without the daily physical demands.
Home Modification Specialization
As I pressed through the coursework to earn certification in home modification consulting, I realized that clients in the home facing a new diagnosis, a chronic illness, or recovering from an injury are not that different from the patients I treat in the hospital. Yes, the client is in his or her home, but similar to a hospital patient, their abilities are (temporarily) limited and they feel a loss of control and independence. The client could be experiencing decreased balance from new medications, shortness of breath with activities such as bathing or dressing, and be at risk for a fall. Meanwhile, the family is having to adjust to their loved one being less independent and needing assistance for many levels of care. Not uncommon, and most certainly imaginable, family members may find themselves feeling fearful or resentful of this new "diminished" version of their parent, for example.
Same Skills, Different Setting
Being a consultant versus a hands-on physical or occupational therapist requires using a similar skill set but in a new environment: the home. The home modification consultant job is physical; the therapist must go up and down stairs, measure a room to be renovated, observe the client during activities of daily living, drive to a business that specializes in adaptive lighting and design, etc. I prefer to think of it as a way to "stay active" versus putting my body in harm's way.
Becoming a consultant is an adjustment. As licensed PTs or OTs, therapists are used to placing their hands on people and helping them move safely. A home modification consultant's key task is observation: observing a client transferring in and out of bed or observing a caretaker's difficulties with getting the client in and out of the entry to the home.
Recommendations consist of adaptive equipment; room renovations; contact numbers and names of builders, lighting specialists, flooring experts, and bathroom remodeling companies; and whether the client would benefit from further skilled therapy.
With my first home modification consultant job, I attended one of my client's outpatient physical therapy sessions (with permission, of course). After the PT session the physical therapist and I were able to discuss options for the client based on both of our observations. This session was extremely informative and became the baseline for many of my recommendations such as the ideal height of her bed for safe and timely transfers. (Note that home visits, therapy session visits, trips to a store for information relating to adaptive equipment, and other products are all billable for a consultant. Any research time is also billable, as well as time to write the final report.) Upon recommendation, I have decided to bill my services per hour, versus per job. This maintains my intention to treat each client individually.
Initially, I did not recognize how my skill set would be appropriate as a home modification consultant. Shortly after I began working toward my certification, though, I reminded myself that patients have the most success when both PT and OT are provided. In the hospital, patients require skilled PT for general strengthening, endurance work, and ambulation as they improve. Skilled OT becomes involved to address activities of daily living such as bathing, transferring to the commode, standing endurance at the bathroom sink, and dressing. The best solution for home modification leverages OTs and PTs working as a team in which family members and caregivers are included.
Baby Boomers Settle In
In 2018, AARP reported that 90% of Baby Boomers want to remain in their homes after they retire, a trend that will be supported by the concept of "aging in place."1 This concept may, in fact, be the only option for people who find themselves shut out of specialty extended care facilities because of expense or wait lists. In any case, many Baby Boomers will remain in their homes as a matter of preference; and to help that strategy succeed, several technologies may be helpful.
Ramps — Age-related disability and neurological conditions can impair mobility to such a degree that a person requires a mobility device to get around. For people who use mobility devices, ramps may be an important piece of the home modification puzzle that provides access into and out of a dwelling. There are several approaches to this modification, including a poured concrete ramp that provides a stable surface yet permanently alters a home's appearance. Alternately, aluminum ramps can provide an access solution that is stable but can also be moved or disassembled. One of the advantages of aluminum ramps is that they can be portable and temporary, with some models designed to be folded down as small as the size of a suitcase. Aluminum ramps can provide excellent versatility. For example, curb ramps can provide transition for a wheelchair that is safe and secure while threshold ramps offer a way to improve the smoothness of transitions over thresholds or small step obstacles.
Door-opening systems — Passing through a home's exterior and interior may also grow more difficult for aging adults as they become more frail. Automated door-opening systems can be useful for mobility device users who have limited functional capacity and want to be able to open and close a door using a wheelchair-mounted remote control or wall push pad. Some systems also offer battery back-up power as well as keyless entry that can be used by attendants and caregivers. Likewise, some automatic door-opening systems are designed to be low-voltage devices that can be installed without the services of an electrician.
Bathroom modification and lifts — Safe bathroom environments are critical for elderly individuals, so home modification planning should consider whether grab bars, shower chairs, transfer boards, and toilet lifts can enhance the safety of an older client. Even if the older person has adequate function now, he or she may come to rely on additional safety features as their strength and mobility decline. Portable lifts may also be useful for use in the bathroom and bedroom for clients who need assistance getting out of a tub, shower, or bed. Stair lifts may be appropriate for individuals who need a technology that assists them in safely moving between floors. Several manufacturers provide stair lifts which can be designed to fit straight or curved paths.
Strategy for the Home Visit
Acute care PTs and OTs understand how difficult it can be for clients and their families to accept help. Privacy is of utmost concern. The experience with family member education in the hospital allows therapists to carefully listen to a client's concerns. Afterward, the therapist can outline what is seen as the client's/family's current needs and how to best assist. Therapists are quick to observe if a family member/client is overwhelmed and that it may be prudent to initially recommend less than more. As consultants, the therapist's job is to accept an invitation into the client's home, listen to their concerns, ascertain their needs, and present them with a well-written, easy-to-comprehend report that they can use as a resource.
All across the country there is a urgent, growing need for home modification providers. Experienced acute care PTs and OTs have the professional expertise for such work as well as years of experience educating and listening to concerns of patients and their families. From experience in the hospital, therapists understand what clients and their families are exposed to after an illness or accident; it means that the person has experienced a "physical change" that has either permanently or temporarily altered the ability to be independent in the home. Assessments can be made to determine what the patient and family require to help with this transition. If done with timeliness and expertise, this transition — though challenging — can be approached with a sense of ease and confidence that benefits all. RM
Katherine Howe, MsPT, ECHM (Executive Certificate in Home Modification, USC), is a 35-year Pilates Method teacher who owns and runs Ravel Studio Pilates in her home in Lexington, Ky. She continues to work as a prn licensed acute care physical therapist at Saint Joseph Hospital. She has just created a second business, Dwell Kentucky, providing home modification consulting. For more information, contact [email protected].
Reference
Markwood S. Baby Boomers Get Smart: Local and State Strategies to Prepare for the Aging Population. Accessed February 12, 2020. Available at: www.aarp.org/livable-communities/learn/planning-land-use/info-2013/baby-boomers-get-smart