As 5th century philosopher Saint Augustine said, "The world is a book, and those who do not travel read only a page."
A trip to China provides an education that can't be contained in a single book. This is what a group of students and faculty members from the University of North Florida's Brooks College of Health (UNF), Jacksonville, discovered when they were invited to China's Center for Health Policy and Management at Shandong University. The university is located in Jinan, a city of 7 million people in China's Shandong Province. Students from both universities participated in classroom time on the current state of health services in their respective countries. Among the opportunities offered to UNF students and professors were visits to an area hospital, a rehabilitation unit, and a skilled nursing facility.
Shandong University Hospital has a relatively new rehabilitation unit, which offers treatment to the residents of Shandong Province, with conditions ranging from wounds to strokes. During our time there, patients were being treated for a foot wound (a worker's compensation case), a new stroke with hemiparesis, and several kinds of orthopedic injuries. The gym area included the same equipment that would be available in the United States, including mat tables, a tilt table, weights, and a wound care area.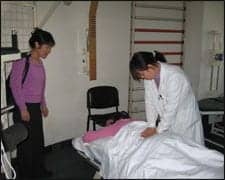 Mei Zhao, PhD, MHA (co-author, left), translates as a University of North Florida student receives a massage from a Chinese therapist. Massage is part of the rehabilitation treatment plan, from stroke to orthopedic issues.
TRADITIONAL CHINESE MEDICINE
Physical therapy, occupational therapy, and speech pathology, as we know it, are relatively new disciplines in the Chinese medical system. However, the art of massage and the understanding of the human muscular and nervous systems as they relate to the well-being of the soul and body are ancient Chinese therapies captured within traditional Chinese medicine (TCM). TCM is a broader grouping of services that includes rehabilitation-oriented therapies that we consider "alternative" in the United States, including acupressure, acupuncture, herbal medicine, Qigong, moxibustion, and Tai Chi.
Acupressure, a variation of acupuncture, is used in the case of lower back pain. Acupressure was developed in China approximately 5,000 years ago and continues to be used extensively. It involves the application of pressure with the thumb and fingers to the same areas that are targeted through acupuncture. While conventional physical therapy methods for treating lower back pain can vary, predominant treatments for Western physical therapists include a range of modalities, such as heat, ultrasound, massage, and exercise, as well as education. Americans took advantage of an offer to try Chinese massage, including the acupressure technique.
Another ancient Chinese rehabilitation therapy is Qigong. This therapy involves the coordination of different breathing patterns with various physical postures and motions of the body. Qigong is mostly taught for health maintenance purposes, but there are also some who teach it as a therapeutic intervention. Qigong holds to a traditional belief of an energy field that helps achieve good health. "Qi" means breath while "gong" equates to technique. Both those who study Western and Chinese medicine believe at a minimum that Qigong aids in stress relief and is a therapeutic exercise. TCM goes one step further, claiming that it helps to balance physical and mental functions. (Editor's Note: Qigong has been officially recognized as a standard medical technique in Chinese hospitals since 1989, and since 1996, it has been included in the country's national health plan.)
| | |
| --- | --- |
| | |
| A Chinese physician administers acupuncture to a University of North Florida student. | Co-author Rob Haley, PhD, MBA, MHS, receives a massage. |
Another traditional Chinese medical technique is moxibustion, which involves the burning of a spongy herb that is believed to facilitate healing. There are two types of moxibustion: direct and indirect. For direct moxibustion, a small amount of moxa (or the herb mugwort) is put on the top of an acupuncture needle and burned. The patient is said to feel heat deep into the skin. There is a chance for burning or scarring if the needle is left too long. Indirect moxibustion involves a practitioner lighting one end of a moxa stick and holding it close to the skin, until it turns red. There is thought to be a lessened chance for burning with this method. (Editor's Note: Medical historians believe that moxibustion predated acupuncture, and needling came to supplement moxa after the 2nd century BC.1)
BLENDING TRADITIONS
In Jinan, we observed various types of physical therapy including electro-acupuncture and upper extremity strengthening exercises on a hemiplegic's left arm. Electro-acupuncture involves a combination of acupuncture and electrical stimulation. A physician places the acupuncture needles at pressure points and then leads from an e-stimulation unit are attached to each needle. (Although this was not a trip where we were gathering outcome data, the study would be interesting.)
Western medicine and Chinese health programs are trying to learn from one another. Both had eras where there was little belief in physical rehabilitation when it came to the treatment of the elderly. The Chinese have moved from a system with little intervention for any age group to the development of rehabilitation hospitals, or at least hospital units devoted to physical rehabilitation.
Four-year programs in physical therapy are available throughout China, and there are a growing number of occupational and speech-pathology programs. The integration of Western and traditional Chinese physical therapy is one of the main characteristics of this type of program. In addition to the Western physical therapy courses, TCM and Chinese traumatology courses are offered.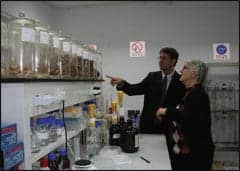 Co-authors Rob Haley, PhD, MBA, MHS (left), and Kerry N. Dunning, MHA, MSH, CPAR, tour the laboratory where herbs used in traditional Chinese medicine are mixed to address the patient's diagnosis.
There are Western-style physical therapy and rehabilitation centers in major metropolitan areas in China. Much of the original training in Western rehabilitation came from the English, Australians, and Japanese. Education remains the key determinant in the development of more rehabilitation centers. In 2005, the statistics showed that for the 60 million disabled persons in China, only about 6,000 personnel provide rehabilitation services, and of those, it is estimated that less than 200 are occupational therapists. As the Chinese population ages and the health system becomes more market-driven, there will be a greater need for physical therapy services combining TCM and Western medicine.
So much is currently going on in China in regard to the development of its health system. For example, there is an increasing drive to provide a community-based health care system. At the same time, China is struggling with cost control and providing universal access to health care. As with the United States, the opportunity to receive health services in China is better in the city than it is in rural areas and it is really incumbent on Chinese citizens in need of therapy to be transported to a rehab center in a larger area.
CHANGES FOR A GLOBAL ECONOMY
Shandong Uni-versity Hospital's rehabilitation center is one of only a handful in the country, and availability of practitioners in rehabilitation is also limited. There is certainly an opportunity for exchange between those who provide physician services, physical therapy, occupational therapy, and speech-language pathology in the United States and China's rehabilitation practitioners. While the Chinese physicians and therapists are learning Western techniques, Westerners can learn from China's long history of providing "alternative" treatments.
As we become more of a global economy, it will benefit all of us to understand, learn, and exchange with other cultures. There may be a university in your area with a joint project or teaching opportunity in China, or another country. There are also companies that ask for volunteers to work short term in exchange opportunities. It is fascinating to visit another country and to intermingle and learn.
Like Saint Augustine, wherever you go in the world, be prepared to be amazed. Think about it: the United States is just over 230 years old and the Chinese were already working on acupressure 5,000 years ago RM.
---
Kerry N. Dunning, MHA, MSH, CPAR, is head of Dunning Consulting, and specializes in postacute systems (including physical rehabilitation and skilled nursing facilities), operational, and revenue cycle issues. She is also involved in multiple foreign projects, and is a member of Rehab Management's editorial advisory board. Mei Zhao, PhD, MHA, and Rob Haley, PhD, MBA, MHS, are assistant professors with the University of North Florida's Brooks College of Health, Health Administration Program. Zhao's research interests include health care financing, management, and quality of care in the United States and China. Haley's research interests include managed care and the public health care system in the United States and abroad. For more information, contact .
Reference
[removed]en.wikipedia.org/wiki/Moxibustion[/removed]. Accessed August 6, 2006.