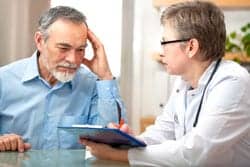 A recent report published by stroke specialists at Loyola University Medical Center indicates that while nearly 1 in 10 stroke patients exhibit central post-stroke pain syndrome (CPSP), physicians often fail to correctly diagnose the condition. Researchers say that a previous study indicated that among patients who experience CPSP, 63% were impacted within one month, 18% within 6 months, and the remaining 18% after six months.
The condition is a form of neuropathic pain caused by damage or dysfunction within the central nervous system. The prevalence of the condition among stroke patients is 8 %, researchers add, however it can range from 1% to 12%.
The types of post-stroke pain include headache and musculoskeletal pain and pain linked to abnormal shoulder movement. In the report, which appears in the journal Topics in Stroke Rehabilitation written by Murray Flaster, MD, PhD, Edwin Meresh, MD, Murali Rao, MD, and Jose Biller, MD, the authors emphasize that as many causes of post-stroke pain frequently coexist in patients, "It is crucial to recognize CPSP and differentiate it from musculoskeletal pain or spasticity-associated pain."
The condition is also treatable with a range of options, including transcranial magnetic stimulation (TMS), medication, and electrical stimulation of the brain. It was reportedly described in a medical journal in 1906 and initially called "thalamic syndrome."
The current report indicates that more than a century later, CPSP is still frequently misdiagnosed.
Source: Loyola University Health System