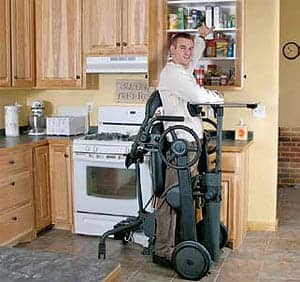 Jadian Foley, a T3 paraplegic, demonstrates one of the advantages of using a standing system. Photography courtesy of the author, and Mark Haen of Altimate Medical Inc.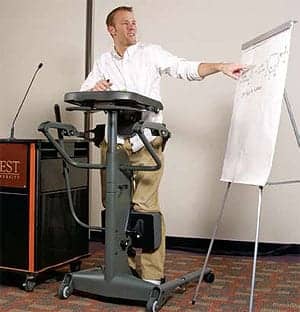 Standing systems offer users physical and psycho- logical benefits.
John is a 45-year-old male with a diagnosis of multiple sclerosis. He was diagnosed in 1990 with primary progressive MS; over the past 15 years, his symptoms have worsened extensively. John went from a strong, independent professional to having to rely on his 24-hour caregiver for assistance for all aspects of his life. John is dependent on caregivers for all transfers, self-care activities, and mobility. His transfers at home require the use of a mechanical lift. In the clinic, John requires maximal assist of two for level transfers only. He functions as a quadriplegic, with only minimal strength and range of motion in his right upper extremity and trace strength in his proximal left upper extremity. He has no active movement in his legs. He is unable to sit unsupported due to poor trunk control and trace abdominal and back strength. John displays strong spasticity in his trunk and lower extremities, which makes transfers and positioning much more difficult. His trunk and hips are very rigid and provide little rotation. He has frequent spasms throughout his lower extremities, which are painful and require further positioning straps on his wheelchair to maintain his posture.
John has been using a sit-to-stand strap-stander for weight bearing during physical therapy, and plans to get one for home use to be more consistent with standing and reap the benefits of weight bearing. The sling portion of the stander slides underneath the patient's hips and buttocks, and then connects to the frame. The patient is elevated and lowered using a hydraulic pump, which can be done by the patient or a caregiver. This type of stander allows for easy donning of the sling in his wheelchair by his caregiver; John is a dependent transfer, and any other type of stander would require much more assistance to transfer into. John and his caregiver are able to raise the stander safely and without any difficulty.
Multiple sclerosis is characterized by weakness, fatigue, heat sensitivity, spasticity, and poor balance. Exercise for MS patients has been shown to make favorable improvements in cardiorespiratory fitness in as little as 4 weeks. Strength and flexibility exercises should be included two to three times per week for improvement in cardiorespiratory fitness; however, variability in patient fatigue from day to day will warrant flexibility. When John is in the stander two times per week during physical therapy, he is assisted to work on gentle upper extremity strengthening and stretching exercises for improvement in overall endurance, flexibility, and spasticity reduction.
In an article in the International Journal of Therapy and Rehabilitation, multiple sclerosis patients were seen for physical therapy. Interventions during the 3-week trial consisted of a daily 30-minute standing program and a daily exercise program. Primary outcome measures included the Ashworth scale, spasm frequency scale, and range of motion measurements. This study showed improvements in range of motion for wheelchair-dependent subjects. A study by Martin et al comparing static and dynamic standing in patients with multiple sclerosis, contrasted the effects of active movement of the upper and lower extremities while standing to stationary standing. Results showed that static standing yielded more favorable and consistent results for the 25-foot walk test and the 2-minute walk. Observations during this study indicated that active upper and lower extremity movement during standing was too vigorous for patients with greater functional impairment.
CASE IN POINT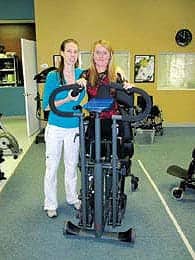 Upstanding Benefits' Author Katie Hohman, PT, DPT (left), and client Melissa. Standing offers users the benefits of weight bearing, strengthening, and endurance.
Melissa is a 20-year-old female who incurred a C3 spinal cord injury 2 years ago. Melissa is a quadriplegic who is independent using a power wheelchair. She is dependent on her family for all transfers and ADLs. Melissa is currently attending college and strives to excel during the rehabilitation process. Her lower extremities have increased muscle tone and frequent spasms, while her upper extremities and trunk are hypotonic.
She is using a sit-to-stand dynamic stander at home for weight bearing, strengthening, and endurance. She requires a dependent lift to transfer into the stander, where her knees are supported to maintain extension while standing. A chest strap and lateral supports are needed to provide trunk control while Melissa is being elevated in the stander and while she is using the active component for exercise. Melissa requires assistance to place her hands on the handles and uses grip-assist gloves to maintain a good grasp on the stander during active movement. She requires minimal assist to push and pull the handles of the stander to enable her lower extremities to move in a back and forth motion as well. She uses her upper extremity strength to provide passive movement to her lower extremities. In a study by Ferris et al, it was shown that rhythmic upper limb muscle activation has an excitatory effect on lower extremity activation. Simultaneous upper and lower extremity exercise should be incorporated into physical therapy for spinal cord injury patients to utilize neural coupling.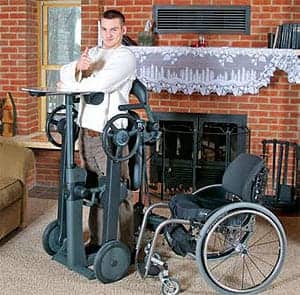 A standing system can help wheelchair users reduce risk factors related to inactivity, as well as improve overall quality of life.
In a study by Edwards and Layne, four subjects with spinal cord injuries (T6, T5-6, C2-5, and C5) completed 12 weeks of dynamic weight bearing. Results of this study showed that dynamic weight bearing can induce physiologic and neuromuscular responses, and may serve as a preparatory program for more advanced rehabilitation. Melissa has been using a dynamic stander for the past 8 months, three to four times a week for 45 minutes each session. When she started physical therapy at Hohman Rehab and Sports Therapy, Melissa was able to begin gait training in the parallel bars for the first time. Her dedication to using her dynamic stander at home proved to be beneficial when beginning and progressing with a gait training program. She was able to progress to using HKAFOs (hip-knee-ankle-foot orthoses) and a platform walker for up to 40 feet with two person assist. Her heart rate and blood pressure remained consistently normal during gait training sessions, which isn't the norm with spinal cord injury patients who do not use some type of regular standing. Numerous studies by Harkema have been completed that suggest that "human spinal networks can integrate and interpret complex signals to produce functional efferent output and adapt to repetitive training." Locomotor training and dynamic weight bearing are founded on principles that promote the movement of limbs and trunk to generate sensory information consistent with locomotion to increase the potential for the recovery of walking after neurologic injury.
John and Melissa, with two very different diagnoses, have made good strides in physical therapy and with overall function since beginning regular weight bearing in a stander. Melissa has progressed from being wheelchair dependent, to becoming ambulatory with a therapist's assist. John was able to decrease his lower extremity spasticity and improve upper extremity function. No matter why an individual becomes a full-time wheelchair user, they are more prone to health complications due to the inability to stand and weight bear through their legs. Sit-to-stand devices provide these individuals the opportunity to dramatically reduce risk factors related to inactivity and improve their overall quality of life.
---
Katie Hohman, PT, DPT, is a doctor of physical therapy and owner of Hohman Rehab and Sports Therapy (hohmanrehab.com), Clermont, Fla. For more information, contact .
REFERENCES
Baker K, Cassidy E, Rone-Adams S. Therapeutic standing for people with multiple sclerosis: efficacy and feasibility. Int J Ther Rehabil. 2007;14:104-9.
Batiste LC, Loy B. Accommodation and compliance series: employees who use wheelchairs. www.askjan.org/media/wheelchair.html.
Behrman AL, Harkema SJ. Locomotor training after human spinal cord injury: a series of case studies. Phys Ther. 2000;80:688-700.
Edwards LC, Layne CS. Effect of dynamic weight bearing on neuromuscular activation after spinal cord injury. Am J Phys Med Rehabil. 2007;86:499-506.
Eng JJ, Levins SM, Townson AF, Mah-Jones D, Bremner J, Huston G. Getting up goals. Rehab Management. 2004;17(1):34, 36, 37, 62.
Ferris DP, Huang HJ, Kao PC. Moving the arms to activate the legs. Exerc Sport Sci Rev. 2006;34:113-120.
Harkema SJ. Neural plasticity after human spinal cord injury: application of locomotor training to the rehabilitation of walking. Neuroscientist. 2001;7:455-468.
Martin CA, Provance P, Costello K, Culpepper WJ, Makely M. The effects of static and dynamic standing in multiple sclerosis: mid-study progress. Available at: www.easystand.com/Stock/ResearchStudyFiles/MartinProvanceMSStanding-Study.pdf. Accessed December 12, 2010.
National Multiple Sclerosis Society. Osteoporosis. Available at: www.nationalmssociety.org. Accessed December 10, 2010.
Walter J, Dunn R. Taking a stand: people with spinal cord injury report increased self-esteem and improved health when using a standing system. Team Rehab Report. 1998;1:31-32, 34.
White LJ, Dressendorfer RH. Exercise and multiple sclerosis. Sports Med. 2004;34:1077-1100.