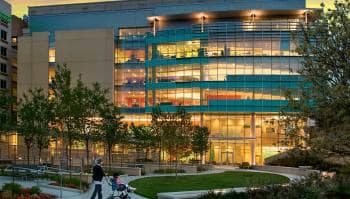 Located in Baltimore, Md., the International Center for Spinal Cord Injury at Kennedy Krieger Institute offers state-of-the-art facilities, including an aquatherapy center and physical therapy gym, which incorporates the latest in Activity-Based Restorative Therapies.
Research. Restoration. Recovery.
For many years, conventional wisdom held that the most improvement from spinal cord injuries occurred in the first six months of recovery and that improvement was virtually impossible after two years. As a result, rehabilitation focused mostly on teaching patients to compensate for injuries considered irreversible.
Conventional wisdom was wrong.
Founded in 2005 by neurologist Dr. John McDonald—one of the world's foremost experts on the treatment of paralysis—the International Center for Spinal Cord Injury at Kennedy Krieger Institute is one of the first facilities in the world to combine innovative research with a unique focus on restoration, rehabilitation, and groundbreaking therapies designed to restore function, sensation, mobility, and independence, while offsetting the debilitating complications patients with spinal cord injury experience.
This state-of-the-art facility includes an inpatient unit for children and young adults and an outpatient program for individuals of all ages. Both programs were created to offer the latest in advanced restoration therapies.
Among the facility's leading services are Activity-Based Restorative Therapies (ABRT). ABRT establishes normal patterns of activation in the nervous system and can encourage neural regeneration. The known benefits of exercise along with anecdotal and clinical case study evidence provide strong support for the value of ABRT in helping individuals with spinal cord injury recover sensation, function, and mobility. These therapies also help patients avoid complications of paralysis, such as osteoporosis, skin breakdown, infection, cardiovascular decline, and other signs of premature aging, which are costly to treat and detrimental to overall quality of life.
Functional Electrical Stimulation (FES) cycling is another important service, which uses a computer to send electrical messages to a patient's arms and legs, signaling his or her limbs to contract and perform a maneuver that would otherwise be impossible. The facility also offers a state-of-the-art aquatic therapy center. The buoyancy of water supports about 90 percent of a person's weight and provides a unique therapeutic environment. People with paralysis can perform activities in water that would be impossible on land. This therapy, like cycling on an FES bike, provides the patterned stimulation needed to promote growth of neural cells.
Partial Body Weight Supported Locomotor Training is another therapy offered that involves suspending patients in a harness and allowing them to walk over a treadmill at a normal speed. For individuals who require assistance, therapists help guide the legs and hips and ensure an efficient and technically correct gait. Therastride equipment allows real-time adjustment of bodyweight support and treadmill speed. The gait training activity allows a person to relearn natural walking while recovering mobility. As gait improves, individuals can progressively bear more weight in their legs.
The International Center for Spinal Cord Injury at Kennedy Krieger Institute
707 North Broadway
Baltimore, MD 21205
888-923-9222
www.kennedykrieger.org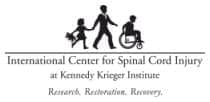 Armeo Spring is one of the newest therapies offered, and is based on the concept that new connections can be made through intensive, repetitive, and task-oriented movements. The exoskeleton interacts with virtual game modules to keep the patient engaged and provide additional challenges.
The International Center for Spinal Cord Injury at Kennedy Krieger Institute is also a leader in spinal cord research. Along with conducting groundbreaking clinical trials, physicians here explore new ways to perform stem cell transplantation. Today, the current stem cell supply is limited, and cell transplantation involves an expensive, complex procedure requiring a long-term inpatient hospital stay. But, in hopes of developing a more patient-friendly and accessible treatment, Dr. McDonald is developing a new process that can be performed on an outpatient basis.
The close proximity of ICSCI's research labs and the therapy gym allows a team of scientists and patients to work together with a common goal: recovery.
Patients may request a lab tour, during which the guide will highlight the center's ongoing work in stem cell therapy and discuss other research priorities. For more information or to make an appointment, please call 443-923-9222, toll-free at 888-923-9222 or visit www.spinalcordrecovery.org. Referral specialists are available Monday through Friday, 8:30 a.m. to 5 p.m.