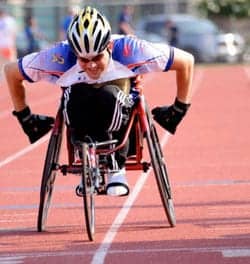 Mike Savicki, spokesperson for the National Mobility Equipment Dealers Association's (NMEDA) National Mobility Awareness Month campaign, was recently awarded the Spirit of the Games Award at the July 2013 National Wheelchair Veterans Games. The award is designed to recognize the National Veterans Wheelchair Games (NVWG) participant who exhibits the positive qualities of sportsmanship, competitiveness, camaraderie, and compassion.
Savicki, a gold medalist and multi-sport wheelchair athlete, has served as the mobility awareness campaign's spokesperson since 2012. An NMEDA news release reports that Savicki sustained a C6,7 spinal cord injury (SCI) while training to become a Navy F-14 pilot at the age of 22. Savicki is the founder and chief thinker of Scratching Post Communications Inc, a communication service for nonprofits, businesses, and individuals. Savicki also received the Tufts University Athletics Distinguished Achievement Award, and has completed more than 75 national and international marathons and half marathons.
Savicki served as the facilitator of the Cornelius Business Factory, a professional organization designed for small business executives interested in learning new ways of doing business. He received his MBA from Duke University's Fuqua School of Business and a BA from Tufts University.
Dave Hubbard, executive director, NMEDA CEO, notes that Savicki "embodies encourage, drive, and enthusiasm for life. We are product of all he accomplishes and proud to have him on our team."
[Source: NMEDA]