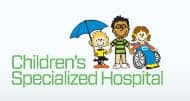 Children's Specialized Hospital, Newark, NJ, has opened a new pediatric outpatient center, providing Essex County access to specialized pediatric occupational, physical, and speech therapies, along with specialized pediatric physician services. The hospital reportedly began treating patients in mid-September and will celebrate the opening with a ribbon cutting September 27. The Center at 182 Lyons Avenue is located directly across the street from Newark Beth Israel Medical Center.
The hospital notes that it is pleased to extend its services to Essex County and the surrounding areas. The hospital provides services for children impacted by brain injury, spinal cord injury (SCI), premature birth, autism, developmental delays, and life-changing illnesses.
In a recent news release, Children's Specialized Hospital also notes that eased access to outpatient services will improve patient attendance and follow-up, resulting in improved health and rehabilitation outcomes. According to the release, more than 20% of Children's Specialized Hospital patients live in Essex and Union county, more than 500 current patients live in Newark. The Center is also slated to schedule more than 9,000 half-hours in its first year of operation. This effort is intended to shorten wait times, reach a larger population in Newark, and create additional openings at facilities in Mountainside and Bayonne.
Patricia Foley, vice president of outpatient services, Children's Specialized Hospital, states, "We know there are children who can benefit from our services and we are proud to offer our expertise in medical care, pediatric therapy, and family centered care approach to the residents of the Essex County area."
John A. Brennan, MD, MPH, president and CEO of Newark Beth Israel Medical Center (NBIMC), echoes Foley's sentiments, adding, "We are honored to have Children's Specialized Hospital on the campus of Newark Beth Israel Medical Center and Children's Hospital of New Jersey."
Source: Children's Specialized Hospital