Bringing together two nationally renowned health care organizations to create a unique culture represents significant challenges that are exacerbated even further if new facilities and services are involved.
Yet just a year after Good Shepherd Rehabilitation Network (GSRN) and Penn Medicine, formerly known as the University of Pennsylvania Health System (UPHS), opened Good Shepherd Penn Partners (GSPP) in July 2008, its alliance is on track to provide one of the largest and most comprehensive continuums of postacute medical care in eastern Pennsylvania. The recipe: Hiring the right staff and allowing them ample time both to get to know each other and to begin creating the compassionate, patient-centered culture we wanted to achieve—before the first patient ever arrived.
Founded 101 years ago in Allentown, Pa, about 60 miles north of Philadelphia, GSRN is a nationally recognized rehabilitation facility that provides rehabilitation services to more than 40,000 patients annually—at 32 sites in eight eastern Pennsylvania counties, including operating 17 outpatient sites, four inpatient sites, a long-term acute care hospital, two long-term care homes for people with disabilities, and an independent living facility. Penn Medicine operates three acute care hospitals in Philadelphia, including the country's first hospital, and is a well-known center of medical education, biomedical research, and high-quality patient care that includes the nation's first medical school, the University of Pennsylvania School of Medicine.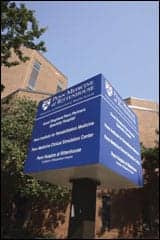 Pennsylvania-based Penn Medicine at Rittenhouse houses two of Good Shepherd Penn Partners' four service lines: Penn Institute for Rehabilitation Medicine and Good Shepherd Penn Partners Specialty Hospital at Rittenhouse.
A JOINT VENTURE
Penn Medicine and GSRN actually began discussing a joint venture in 2005. GSRN was interested in expanding its patient-focused brand of rehabilitation care to more people in a larger geographic region and in drawing on the research and medical school resources of Penn Medicine. Meanwhile, Penn Medicine was interested in leveraging Good Shepherd's expertise in an effort to offer a broader array of rehabilitation and post-acute care services in an underserved market. It also wanted to enhance its comprehensive continuum of post-acute care by allowing its patients to remain in its system and have their post-acute care managed by Penn physicians.
Following lengthy discussions, however, the concept was initially shelved after the cost of constructing a new facility was deemed unfeasible. Negotiations were quickly rekindled, however, when Penn Medicine learned that Tenet Healthcare Corporation wanted to sell Graduate Hospital, a six-story Center City Philadelphia hospital. In January 2007, Penn Medicine purchased the hospital campus and, with GSRN, jointly announced the creation of Good Shepherd Penn Partners.
GSRN, which has majority ownership and appoints four of the joint venture's seven board members, agreed to spend $40 million to renovate three of the hospital building's floors. Now known as Penn Medicine at Rittenhouse, this renovated facility houses two of GSPP's four service lines, including:
A 58-bed inpatient rehabilitation facility (IRF) known as the Penn Institute for Rehabilitation Medicine, which is licensed under the Hospital of the University of Pennsylvania (HUP). The IRF has been relocated and expanded upon the 24- and 18-bed inpatient rehabilitation units Penn Medicine had operated at HUP and Pennsylvania Hospital.
A jointly-owned 38-bed long-term acute care hospital (LTACH), the GSPP Specialty Hospital at Rittenhouse—a service Penn Medicine had never before provided. The facility treats medically stable but complex patients who are too ill to be discharged to a nursing facility, an acute care rehabilitation hospital, or their home.
GSPP Also Offers:
Eight Penn Therapy and Fitness outpatient physical therapy practices, which Penn Medicine had previously operated.
A contract division that provides physical, occupational, and speech therapists to Penn Medicine hospitals as well as skilled nursing facilities.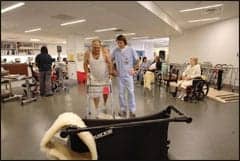 Individuals with injuries, illnesses, or surgeries that limit their physical abilities receive customized care throughout the recovery process.
KEYS TO A SUCCESSFUL LAUNCH
A year after its July 2008 opening, GSPP employs more than 400 full-time-equivalent therapists, nurses, and administrative support staff. The key to our successful launch was an extensive 11-month planning, communication, and orientation phase that entailed significant staff involvement and began a year earlier. To assure the smooth transfer of all the therapists from Penn Medicine's hospitals and outpatient therapy sites to GSPP on July 1, 2008, the therapy leadership began working on the transition in September 2007.
The chances of a smooth transition also were enhanced when 85% of the nursing staff from each of Penn Medicine's two inpatient rehabilitation units—attracted by the facility's dynamic focus on post-acute care and long-term rehabilitation—elected to join GSPP. While GSPP is a separate organization, we also worked closely with Penn Medicine to create a salary and benefits program that was consistent with the Penn Medicine program; each staff member's years of service and vacation and sick banks were carried over to GSPP.
GSPP also recruited new clinical and support staff to operate additional services, particularly the long-term acute care hospital. Besides recruiting locally, GSPP partnered with a national recruitment and "onboarding" staffing company, with a hands-on human resources and recruitment support. As a result, the hiring of an additional 25 nursing and respiratory staff in order to reach a critical mass of clinicians was achieved in just 4-and-a-half months.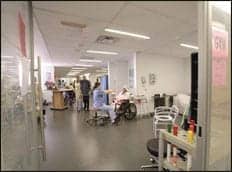 Acute care and long-term care rehabilitation patients receive comprehensive therapy services from occupational, physical, and speech-language therapists.
Integrating employees: Staff communication, input, and orientation
To begin creating a unique institutional culture and to assure that the staff was ready to immediately provide optimum care, GSPP invested heavily in communication, staff involvement, and orientation efforts.
Communications meetings were held monthly with both transferring staff members from the Penn Medicine hospitals and outpatient therapy sites and new recruits. They were kept informed of human resources issues, such as benefits, and their input and involvement were elicited in the planning process. Nurses and therapists played a significant role in dictating how the facility was renovated and in planning programs, policies, and procedures that reflected the switch from hospital-based services to a freestanding center. Their input ranged from deciding what supplies should be ordered and where they should be stored to helping create our "rapid response" early intervention program for patients encountering medical difficulties.
New staff members underwent a 10-week orientation at Penn Medicine hospitals and GSPP to experience both cultures. To quickly develop necessary skill sets and qualifications for the new LTACH, the respiratory therapy and nursing staff also underwent a unique 10-week clinical orientation program that included advanced cardiac life support certification. The orientation was held at the Penn Medicine intensive care units, with HUP supplying critical care nursing staff in order to assure consistency with Penn Medicine clinical services.
Although a considerable investment, the 10-week orientation represented an invaluable opportunity to begin building our institutional culture. This team-building experience allowed staff members to get to know and bond with each other in a little different way before they began treating patients.
TRANSITIONING LEADERSHIP STAFF
During this preopening, GSPP transitioned the existing leadership teams from Penn Medicine's inpatient and outpatient services. In addition to the executive director, the team consists of: the chief medical officer; LTACH medical director; chief nursing officer; business development/marketing director; rehabilitation and LTACH administrators; and human resources coordinator. With their combined clinical and administrative experience, the team was able to lead and direct a smooth transition.
The medical staff is built around the Penn Medicine faculty and nonfaculty members. Because the inpatient rehabilitation facility is licensed under HUP, the HUP medical staff has privileges at the Penn Institute for Rehabilitation Medicine. The LTACH is also a Penn-credentialed facility, utilizing a combination of University of Pennsylvania School of Medicine faculty and the nonteaching medical staff from Penn Medicine hospitals and Penn's Clinical Care Associates.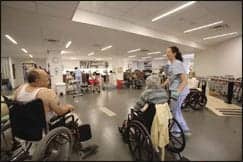 The GSPP integrated team approach to inpatient and outpatient rehab: assisting those who have experienced trauma, injury, or disease achieve benchmark levels of independence.
VISION AND MISSION
Developed by the board and senior leadership, the GSPP vision—"Partnering to Realize Life's Potential"—incorporates two main themes:
Partnering: The partnership/relationships are not just between Penn Medicine and GSRN, but the relationships encompass staff members, medical staff, patients, families, and all of the associates who support GSPP.
Realizing life's potential: Helping patients become as independent as possible and giving those patients the opportunity to return home and live independently.
The multidimensional partnering aspect of the vision statement truly reflects what has become the hallmark of our organization. (Such comments as "It's really good to work with your team" have been heard at both Good Shepherd's headquarters in Allentown or one of the Penn Medicine hospitals.) Meanwhile, the staff continues to work hard to understand the concerns of patients and families and to educate them regarding what they can expect in terms of returning to independence.
The mission statement, meanwhile, reflects a combination of the two cultures from which GSPP was created: "We create world class patient-centered rehabilitation and post-acute care services by defining evidence-based practice and fully integrating care throughout the continuum."
The foresight of GSRN's CEO, Sally Gammon, and her board throughout the process, as well as her leadership as chairman of the GSPP Board, has been tremendous. Likewise, the support of Penn Medicine's CEO, Ralph Muller, and his executive team has been most beneficial.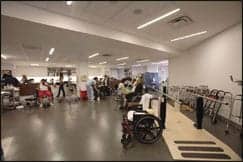 Therapy facilities at GSPP are equipped to rehab a wide range of injuries and disabilities to help patients regain function and return to normal activity.
THREE-PHASE PROCESS
In making that mission a reality, the GSPP launch has undergone three phases. During the preopening, between January 2007 and July 1, 2008, the dual goals—which were successfully met—were to complete the $40-million renovation on time and on budget while fully staffing the facility with UPHS transfers and new recruits.
The second phase in the last half of 2008 involved integrating the staff, building the medical staff, and increasing patient volumes. During this phase, the facility opened an entire floor of 18 beds dedicated to brain injury patients; outcomes, in terms of both returning to home and higher levels of independence, already measure well against regional benchmarks.
The current phase involves fully integrating and growing the business in order to establish GSPP as the premier postacute service in the country.
During the first year, GSPP overcame a somewhat slow start with our inpatient rehabilitation services. In hindsight, the challenges involved in transferring such care from inside a large tertiary hospital to a freestanding facility with fewer support services proved its biggest challenge. In response, the practice has become leaner and smarter, avoiding overutilization of certain tests and procedures while providing necessary services in a creative way. Clinical outcomes bear out that GSPP is a more than efficient provider, yet is able to continue to provide outstanding care. This includes telemedicine/teleconsultations and its eICU Program, a 24-hour tele-intensivist monitoring system that allows Penn faculty physicians and critical care nurses to continuously evaluate critically ill patients from a remote location. One of GSPP's signature services, it is an example of how patients are treated based on real-time information. The integration of the physical, occupational, and speech therapists who work for GSPP but provide services at partner hospitals has proven to be an outstanding example of GSPP's concept of clinical partnering. The patients who need post-acute care after their acute care stay are all evaluated by the therapy staff to help identify the most appropriate level of care.
As a result, by the start of 2009, all services were back on budget for patient census and visits. Meanwhile, the outpatient therapy and the LTACH were ahead of budget after the third month, and, although we then experienced a slight drop in outpatient volume, primarily due to the economic recession, throughout 2009 these services have rebounded nicely. Overall, we exceeded our first-year objectives, with $40 million in operating revenue and approximately 146,000 persons served. We also experienced an impressive nurse/therapist turnover rate of less than 15%—a clear indication they have embraced our culture.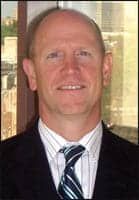 Michael J. Soisson
LOOKING FORWARD
During our second year, we will focus primarily on growth, integration, and establishing GSPP as a leader in post-acute care. Across each service line, we will be enhancing our established programs and services and developing and implementing new ones. Growth is anticipated in the wound care and amputee programs, and, after July with the arrival of a medical director, the spinal cord injury treatment program is undergoing significant enhancements. As with the brain injury program results, the goal for all the service lines is to achieve the highest clinical outcomes possible, especially in terms of returning patients to home independence.
The health care reform proposals of the Obama Administration emphasize reducing the incidence of patients having to return to acute care within the first 30 days after discharge, and should those proposals be enacted by the government and other payors to better manage this issue, GSPP is strategically positioned to partner with Penn Medicine and other health care organizations to offer a high-quality yet lower-cost care model.
Nonetheless, the day-to-day operational challenges, coupled with economic and regulatory pressures, represent GSPP's biggest obstacles. But as its culture evolves, continuing to keep the staff and leadership focused on our vision, "Partnering to realize life's potential," is the key to its patients' successful outcomes and GSPP achieving its goal of being the country's premier post-acute care center.
---
Michael J. Soisson is executive director of Good Shepherd Penn Partners. For more information, call (877) MYREHAB (969-7342), or go to .