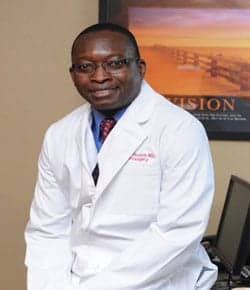 The University of Louisville (UofL) announces that its Maxwell Boakye, (pictured right) MD, neurosurgeon, has been named to a 21-member panel that makes recommendations on neurological research funding to the National Institutes of Health (NIH).
Boakye, the Ole A., Mabel Wise and Wilma Wise Nelson Chair in Clinical Geriatrics Research in UofL's Department of Neurosurgery, will join the Clinical Neuroplasticity and Neurotransmitters Study Section (CNNT) of the NIH's Center for Scientific Review.
The CNNT is intended to review grant applications and make recommendations on grants to be funded for laboratory research in the areas of spinal cord injury (SCI), epilepsy, and neurodegenerative conditions such as amyotrophic lateral sclerosis (ALS), Parkinson's disease, and diabetic neuropathy. The university notes that Boakye's term on the panel is effectively immediately and ends in 2017.
Boakye holds a bachelor's degree from Rutgers University and received his MD degree at Weill Cornell Medical College. The university adds that he completed his residency in neurosurgery at State University of New York-Upstate and subspecialty training in complex spinal neurosurgery at Emory University and in spinal oncology at Memorial Sloan-Kettering Cancer Center. Boakye also holds a master of public health degree from Johns Hopkins University, as well as a master of business administration from the University of Tennessee.
Boakye reportedly moved his SCI and outcomes research laboratory labs from Stanford University to UofL in January 2011. The goal of Boakye's research SCI and brain injury research centers on understanding the physiology and plasticity of the sensorimotor system in health and in patients with spinal cord and brain injury. The university notes that Boakye ultimately hopes to use that knowledge to develop new surrogate markers of recovery, new methods of injury prognosis, and new therapies for spinal cord and brain injury.
Source: University of Louisville