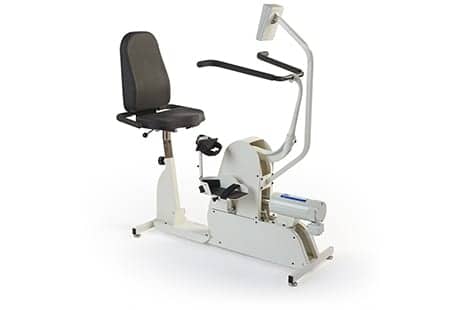 Outpatient physical therapy provider Virginian Outpatient Therapy, along with Theracycle, a provider of motorized exercise bicycles designed to ease symptoms for people with Parkinson's Disease (PD), have replicated the results of a study using a "forced exercise" regimen for PD symptom improvement.
The study, conducted in 2009 by the Cleveland Clinic, suggests that forced exercise, in which a motor assists in moving the patient's body beyond the extent they can do so themselves, may help vastly improve PD symptoms including rigidity, loss of balance, and tremors.
The patients who participated in Cleveland Clinic's forced exercise study exhibited a 35% improvement in motor scores, as measured on the Unified Parkinson's Disease Rating Scale (UPDRS). Those who only participated in voluntary exercise on a traditional stationary bicycle did not exhibit any improvement in their symptoms, according to a media release from Theracycle.
Virginian Outpatient Therapy Assistant Director of Rehabilitation and Board Certified Geriatric Clinical Specialist, Shirlea Hennessy, PT, DPT, GCS, replicated the Cleveland Clinic study in the summer of 2018 with a PD patient who introduced her to the Theracycle. Together, they worked to supplement his existing wellness program, using the same exercise regimen within the study. By adding an hour of forced exercise on the Theracycle three times a week for 8 weeks, Hennessy's patient saw the following improvements, the release continues:
Went from a UPDRS score of 36 to 6 in a matter of 12 weeks
Lost 10 pounds throughout the course of the program
Allowed him more joy in his daily activities, such as seeing his grandchildren, attending bible study, and doing Tai Chi and yoga
Regained his confidence in driving himself places
"At Theracycle, we understand how life-changing forced exercise can be for PD patients," says Theracycle CEO, Peter Blumenthal, in the release. "We're honored to make a positive impact on the lives of those living with PD."
"To see such substantial improvements in his mobility symptoms in as little as 8 weeks was remarkable. Even after stopping forced exercise for 4 weeks following his program, my patient maintained his improvements, revealing that a little effort can go a long way in establishing greater freedom and independence," Hennessy states. "That freedom and independence is all that PD patients strive for as they face their diagnosis and symptoms."
For more information about the study, download the whitepaper.
[Source(s): Theracycle, PRWeb]