Representatives from Cala Health Inc recently presented data demonstrating that Cala Trio therapy is safe and effective in improving tremors in patients with essential tremor (ET) when used at home, unsupervised, and under real-world conditions.
These findings further validate the previously reported results from the PROSPECT study, a large therapeutic clinical trial of patients with ET, according to the Burlingame, Calif-based company.
The results from this new real-world evidence, which provides additional objective data on typically subjective patient-reported symptoms, were presented recently as a poster at the International Parkinson and Movement Disorder Society's MDS Virtual Congress 2020, the company notes in a media release.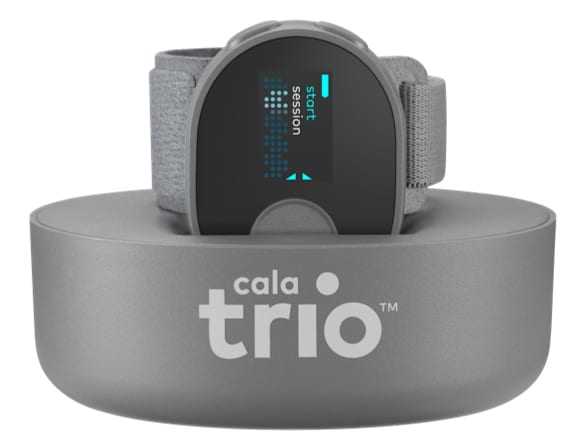 "Patients with ET often need to choose between living with tremors that negatively impact their daily lives or risk unwanted side effects from pharmacologic therapy – our mission is to change that equation and improve lives.

"As a bioelectronic alternative, Cala Trio offers a new approach for managing tremors without the systemic side effects of pharmacologic treatments or the brain surgery needed for implanted devices. The real-world evidence presented at MDS shows that excellent outcomes can be achieved with Cala Trio and that the device is easy for patients to use in their everyday lives – not just in controlled clinical trials."

— Kate Rosenbluth, PhD, Founder and Chief Scientific Officer of Cala Health
Real-World Data Measures Home Use
Forty-four patients used Cala Trio for symptomatic tremor relief in hand tremors during 3 months of non-supervised home use. Tremor severity was quantified using tremor power, which was computed from motion sensor data, and assessed before and after each of the first 40 Cala Trio therapy sessions, as well as every subsequent seventh session. Motion data resulting in tremor power measurements included 1,751 therapy sessions.
Results suggest that after therapy sessions following users' most severe tremors, 93% of patients experienced at least a two-fold improvement (50% reduction) in tremor power. Additionally, 57% of all patients experienced at least a two-fold improvement in tremor power over all sessions. Of the 18 patients who completed a survey after 90-days of use, 61% reported improvement in their ability to eat, drink, and write, and 56% reported improvement in quality of life. Three of the 44 patients reported minor adverse events (skin irritation or electrical burns) that resolved with a pause in treatment and without medical intervention.
Sylvia Hooks, a 73-year-old former professional tennis player, and an avid golfer, has been living with ET for more than 30 years. She had taken daily medication for years to alleviate her tremors as well as had a consultation with her doctor about deep brain stimulation. Sylvia has been using Cala Trio since its approval in 2018, and no longer needs daily medication to treat her ET, the release continues.
"Many people fail to appreciate the psychological and emotional toll that ET takes on people living with this condition every day.

"I felt frightened that I couldn't do simple tasks. It was also frustrating and embarrassing to have friends and family wanting to butter my bread because it was painful for them to watch me struggle. Cala Trio continues to make it easier to play golf, and it makes it more comfortable to eat in front of others."

— Sylvia Hooks
"Adults with ET have limited treatment options, and Ms. Hooks' experience before commencing therapy with Cala Trio is typical of many patients. Patients with ET and the physicians who treat them need to know that a different option exists: a medication- and surgery-free therapy that can be administered easily at home and can improve tremor symptoms and quality of life.

"This evidence is an important step forward, and I hope that these real-world results will encourage the widespread adoption of this innovative bioelectronic therapy for ET."

— Rohit Dhall, MD, MSPH, Associate Professor of Neurology and Director of Neurodegenerative Disorders at the University of Arkansas and lead author on the real-world data publication
[Source(s): Cala Health, Business Wire]
---
Related Content:
Target This to Help Improve Essential Tremor Treatment
Essential Tremor Treatment Via Ultrasound May be Effective Up to 3 Years Later
UW Researchers Develop Essential Tremor Treatment That Delivers Targeted Stimulation