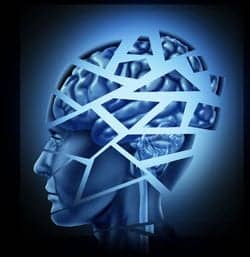 In patients with psychogenic nonepiletic seizures (PNES), a new study indicates that traumatic brain injury (TBI) may significantly increase the odds of having major depression, personality impulsivity, and post-traumatic stress disorder (PTSD). The study reportedly compared patients with PNES and TBI to individuals without TBI. Study author W. Curt LaFrance Jr, MD, MPH, director of neuropsychiatry and behavioral neurology, Rhode Island Hospital, discovered that 45% of patients with PNES also had TBI, and 73% of those TBIs were mild TBI.
The results suggest that patients who had sustained a TBI demonstrated more mood disorder diagnoses, were more likely to receive disability, and had lower global functioning than PNES patients who did not have a TBI. The results also emphasize the importance of pinpointing and addressing the impact of TBI in patients with seizure disorders in order to ensure appropriate and effective treatment. According to a recent news release, patients with both PNES and TBI are not only more likely to develop major depressive disorder, they are also more likely to have a history of abuse.
The study notes that while these psychiatric disorders are common in PNES patients, the presence of TBI exacerbated their condition. The study also indicates that in both PNES patients with and without TBI, patients exhibited similarly high rates of unemployment, with twice as many patients with TBI receiving disability payments.
LaFrance adds that another finding yielded by the study, "was that if a patient had both PNES and TBI, the combination resulted in 2.75 odds increase of having PTSD, and triple the odds increase of having a history of trauma/abuse…This study shows that TBI and PNES are significantly associated with a cluster of diagnoses including depression and PTSD, personality, and/or trauma/abuse history, all of which could have an impact on functioning," LaFrance says.
The release reports that while prior studies have assessed TBI as a risk factor for PNES, but did not measure psychiatric and functioning outcome measures.
Source: Rhode Island Hospital