The American Parkinson Disease Association (APDA) has launched the APDA Symptom Tracker App to help people living with Parkinson's disease receive better and more personalized care.
Available now for Apple iOS (Apple App Store) and Android (Google Play) environments the free app was developed to help PD patients keep track of symptoms frequently and more accurately, and share that information with their medical professionals.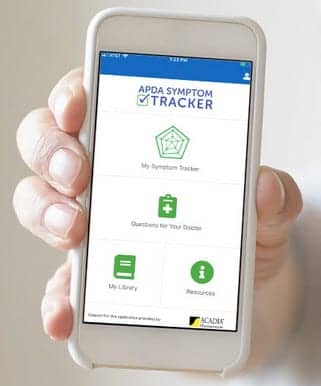 Via a simple set of questions, the app guides patients to rate how certain motor symptoms (such as tremor, rigidity, and balance) and non-motor symptoms (fatigue, anxiety, depression, and others) are affecting them. It then creates a simple graph to indicate which symptoms are most impacting their quality of life, which can be saved in the "My Library" section of the app and can also be emailed directly to members of their health care team.
Over time, results can be compared to see if certain symptoms are getting worse, and determine which symptoms need to be addressed more urgently than others, a media release from APDA explains.
"As a movement disorder specialist, the more my patients can tell me about their symptoms, the more I can help them. I can see how they're feeling at that one moment, but to be able to see on a chart how they've been feeling at other times since I last saw them would be hugely beneficial for me," states Rebecca Gilbert, MD, PhD, chief scientific officer, APDA.
"The APDA Symptom Tracker App will be a useful tool that will benefit not only the patient, but it will help me as their doctor," she adds.
The app also has a special "Questions for the Doctor" feature that generates a list of suggested follow-up items for people to review with their doctor about symptoms and concerns they are currently experiencing, but also about preventative care. It also features a list of resources that connects patients directly to information about Parkinson's disease.
[Source(s): American Parkinson's Disease Association, PRWeb]