Every potential physical therapy facility owner has their own reason for starting a clinic. Many like the freedom and independence that come with clinic ownership. Others like the challenge of running a busy clinic. Of course, there is always the possibility of reaping a nice financial reward. It is easy to imagine oneself as the owner of a clinic. It is harder to make the dream a reality. This guide will show you how to build success into your clinic from the start.
DO THE RESEARCH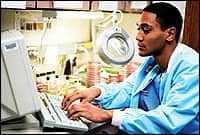 When choosing facility-based software, research is paramount.
Research the potential success of your clinic before you invest in it. The biggest mistake that you can make is to run with an idea without doing the necessary research.
There are four "Cs" that you need to know before opening your clinic. They are: customers, competition, compensation, and costs.
1) Customers
It is important to know how many potential customers there are in your area. By sizing your market, you will get a good idea about whether you will be able to fill your appointment book. This is especially important for rural areas, or if you have a very specific focus for your clinic. You need to be able to answer the questions:
How many people live in your area?
How many will seek the care you offer?
You need to research referral sources as well. This is easier to figure out if you have already practiced in the area where you would like to open your clinic. You need to know:
How many doctors in your area refer patients for your specialty?
How far would a referral source recommend that his patient travel to receive the care your practice would provide?
Also, ask yourself if you are the type of person who feels comfortable reaching out to referral sources you do not know.
Where to find customer information: The Internet is an excellent resource for customer demographics. Demographic Web sites like infousa.com and the United States census site, census.gov, will give you important data about your area. Your local library also may have access to demographic databases with more specific information, like household ages and income.
2) Competition
Living in a well-populated area can be a boon to a new physical therapy practice. However, you also will find more competition in urban areas. Sizing up the competition is a crucial part of your research process. You need to know:
How many physical therapy clinics are there in your area?
Do you practice a specific specialty that is under-represented?
One problem that concerns physical therapists is insurance panels. It is much easier to get and retain patients if you are part of their insurance plans. In the interest of keeping overhead low, insurance companies limit the number of therapists that they allow on each panel. Your potential for successful inclusion in insurance panels is directly related to the amount of competition in your area. Do not get your heart broken by investing in a clinic only to find that you cannot get on the insurance panels for your area. You need to know:
What are the steps to become a preferred provider for payors in your area?
How difficult will it be to become a preferred provider?
Are the insurance panels already saturated for your specialty?
Where to find this information: Networking with other physical therapists in your area is key. If you have not become a member of the Private Practice Section (PPS) of the American Physical Therapy Association, this is a good time to do so. Joining enables you to attend your local chapter's meetings. PPS APTA's Member Mentor Program also connects you with experienced private practitioners around the country.
3) Compensation
Compensation rates vary across the country. Your expectations must be in line with the real-life compensation that you will receive as the owner of your own clinic. You need to know:
How much should you expect to be paid per visit?
How much will you have to write off due to denials, and lack of payor and patient payments ?
Where to find this information: Athena Health's PayerView provides a comprehensive review of the major payors throughout the country. www.athenahealth.com.
Also, you can request information from the payors that you intend to bill. Of course, friends and mentors in the physical therapy industry are good resources.
4) Costs
The number-one question that every therapist has is "How much is this going to cost?" I have talked with therapists who have spent as little as $100,000 and as much as $500,000 to start a clinic. Real estate and salaries are the two biggest costs that you will encounter in your clinic, both of which vary widely by region. You need to figure out the cost of your facility, your clinic's equipment, your employees' salaries, and your marketing.
Where to find this information: While some of this information is available online, it also is a good idea to talk with local real estate agents. If you live in an urban or suburban area, you may be able to find one that specializes in health care properties. Your contacts through the PPS APTA also may be able to give you some ballpark estimates.
AFTER THE RESEARCH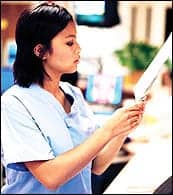 A solid business plan can provide a good head start in growing a company.
Now that you have done the research, it is time to really think about your potential for success. Are there enough prospective customers? How much competition is there? Is the compensation good enough? Are the costs low enough? How many clients are you going to need to see on a daily basis to make a profit?
It is a good idea to develop a spreadsheet that lists your initial investment, your ongoing costs, and a forecasting of your earnings for the next fiscal year.
PICK YOUR MARKET, DEFINE YOUR CLINIC
Often, clinic owners try to provide services to everyone, and in doing so, they are unable to focus their message or expertise on a specific market. Picking a specific market of customers and defining your clinic by that market's needs is an important step, because by doing so, you will focus your marketing message and your efforts to meet that market's needs.
DEVELOP A BUSINESS PLAN
After you have done the research, picked your market, and defined your clinic, you are ready to write your business plan. Developing a business plan will help you: define your goals; develop the strategies to achieve those goals; decide the best way to use your human and financial resources; communicate your plan to employees, colleagues, and potential backers; and track the results of your efforts and change your plans and work practices as needed.
Also, with a good business plan, you have a head start if you decide to expand your business. The Small Business Administration has excellent resources for business plan development. Check out their Web site at www.sba.gov.
Think of how you will run your clinic on a day-to-day basis. A clinic's workflow describes the movement of tasks and data through a work process. Workflow describes the actual tasks, who performs them and in what order, how information is organized to support the tasks, and how the tasks are tracked. Draw a basic workflow diagram, thinking about the information you need to capture at each step, from scheduling to treatment to billing. Incorporate this information into your business plan.
As you plan your business, you will need to forecast your profitability. Plan for the cash flow bump. Most clinics report an initial period of 3 to 6 months before they have cash on hand to pay their bills as they come in.
ENLIST THE EXPERTS
As you develop your business plan, you should start working with the professionals that will help you get your business up and running.
It is all too common for a penny-pinching entrepreneur to not invest in the expertise of others. You are a physical therapy expert. Stay focused on the physical therapy aspects of your business. It is very difficult to do your own accounting, billing, and marketing and still have time to run your clinic and see your patients. Hiring experts to help you is money well-spent.
FINANCIAL EXPERTS
If you do not have the cash in place to invest, you will need to acquire financing. Ask some successful business people to recommend a good banker. In addition to a banker, you will need to find a lawyer and a certified public accountant.
Two worthy financial investments are accounting software and a lockbox. Using an Internet-based accounting software package will enable you to access your financial information securely anywhere, anytime.
A lockbox is a post office box connected to a depository account. Payors mail checks and explanation of benefits (EOB) forms to the lockbox. Checks are automatically deposited into your account. Banking employees scan the checks and EOBs and provide an online representation of the scanned copies for your billing staff or billing service to access anytime, anywhere. A lockbox eliminates the hassle and risks inherent in making deposits, and storing checks and EOBs. The information is at your fingertips and your checks are deposited immediately.
FACILITY EXPERTS
Your network should be able to provide you with a real estate agent with an expertise in health care facilities. A good location with ample parking will make a significant difference in the number of patients you see. There are also facility design consultants that can help you design how your clinic will work, including the best layout for your treatment facility.
MARKETING EXPERTS
Spend the money for a professional logo, business cards, and Web site. A marketing expert will help you develop your clinic's identity and will be able to create a visual representation of that identity to market your clinic. Also, you will want to develop a plan to reach out to and maintain your referral sources. Learn what kind of information they need from you and how you might make it easier for them to refer patients to you. If you communicate better to your referring physicians and make it easier for them to get patients to you, you will keep referrers happy and referrals coming.
INFRASTRUCTURE EXPERTS
Infrastructure is the catch-all category for "What you'll need to run your business on a day-to-day basis." One piece of your infrastructure is your software. With current Internet-based software companies, you do not need to make large up-front investments in hardware and software. You will want to invest in a commercial-grade high-speed Internet, and a high-quality wireless network infrastructure. Once the Internet and network are set up, and your computers are configured and secure, your software vendor should provide the necessary support.
BILLING SERVICES EXPERTS
Many new clinic owners are caught in a catch-22. They do not have the volume of charges to afford a billing manager, and yet they do not have the time or expertise to do the billing themselves. Many new owners are tempted to have someone do double duty on the front desk and billing. It is important to realize that not all medical billing is the same. Physical therapy and rehabilitation billing and compliance are different than physician or other medical billing. Just as you would never trust someone to supervise treatment for a patient if they were not a licensed physical therapist, you should not trust your billing to someone without significant experience in rehabilitation billing and reimbursement.
One successful approach is to hire a billing service. By relying on a good service, you can pay for your billing as you grow. Billing services fees are based on what they collect, not on your gross billing charges, and are usually a small percentage of the collections paid after the money is collected and deposited in your account. It does not make sense to pay someone a salary when you do not have the volume in charges to support that personnel.
Every new clinic owner has heard a horror story about billing services. Whenever you entrust someone with your clinic's money, you are taking a risk. You can cut down on that risk by getting recommendations from colleagues, and by using a billing services company that gives you a way to keep tabs on your business and hold them accountable. Their software system should provide a portal that allows you to check their follow-up status, patient accounts, and reports on the aging of your accounts receivable. You should be able to get any information you need to feel comfortable that they are following up as you would. Some billing services also provide free clinic management software, which helps improve efficiency and further cuts down on your initial out-of-pocket investment.
As you get information from your experts, you will need to modify your business plan in order to keep your information up-to-date.
PUT YOUR CLINIC MANAGEMENT SYSTEM IN PLACE
Using your business plan, you will know how you want to run your business on a day-to-day basis. A big part of your success will be the clinic system that you put in place.
Make sure your software supports your clinic's workflow. Some clinics choose to buy several software products: one for scheduling, another for documentation, maybe a third for billing. I do not recommend doing this, because it can be very difficult to get these tools to talk with one another. Your data gets out of sync (if it can be passed at all). This is where mistakes occur. It is much better to have one integrated system that handles scheduling, documentation, billing, and collections. You have to enter your data only once. The data is available to everyone who needs it. Everyone works in the same system, which provides you with a more complete picture of your clinic.
One successful approach is to forego a big investment in information technology, and instead invest in ASP software. An ASP is an application service provider, a business that provides software-based services to customers over the Internet. An application service provider invests in a secure, reliable infrastructure to run their software, so you do not have to. You can run your clinic with a laptop and a decent Internet connection. Another valuable aspect of using an ASP is that you can access your data securely from any location. You are not tied to your clinic, but instead can work from anywhere.
Another key to your success is ensuring that your clinic management software system has good business intelligence. Business intelligence is the ability to filter a huge report down to just the information that is critical to support business decisions and critical actions within an organization. By filtering the actionable information from a sea of numbers, you will be able to focus on key performance measurements and find the tasks that matter.
WHEN YOU OPEN YOUR DOORS
You have everything in place. You did the research, defined your market, developed your business plan and workflow, enlisted the help of the right experts, and put your system in place. It was a long road to get here, but you have set yourself up for success.
Clinic ownership is a journey, not a destination. My final advice to you, from one clinic owner to another, is: continue to cultivate a network of friends, peers, and mentors; remember to focus on your expertise, and enlist the help of other experts as you need them; and always look for ways to improve your clinic. From patient care to productivity and everywhere in-between, if you are constantly improving your work, you will always have a steady flow of customers and profits.
Jerry Henderson, PT, has been a practicing physical therapist for more than 25 years, and is founder of a Portland, Ore-based software solutions company. For more information, contact .