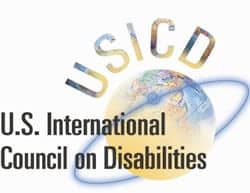 In recognition of the December 3 International Day of Persons with Disabilities, the US International Council on Disabilities (USICD) calls on the US Senate to support the Convention on the Rights of Persons with Disabilities. The international disability treaty is intended to promote dignity, human rights, and inclusion for individuals with disabilities worldwide.
"The International Day of Persons with Disabilities serves as a reminder to all of us that, though there has been much progress, we still have a long way to go towards achieving inclusion for all. Today, the American disability community stands in solidarity with the global community and the millions of people both at home and abroad who need and want the Disability Treaty to be ratified…" Marca Bristo, president, USICD, says.
Jill Houghton, USICD board member, executive director of the US Business Leadership Network (USBLN), echoes Bristo's sentiments and designates the International Day of Persons with Disabilities as a day for celebration not only by individuals with disabilities, "but for everyone who supports opportunity and equality. That is why we support US ratification of the Disability Treaty. More than 50 US member corporations have signed on the USBLN's letter supporting ratification."
The organization notes that the treaty fell five votes short of ratification in a Senate vote last December. The Senate Foreign Relations Committee is currently engaging in renewed discussions of the treaty, USICD says.
Source: USICD