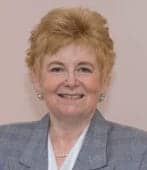 A complimentary June 11 webinar, hosted by compliance expert Nancy Beckley, MS, MBA, CHC, (pictured right) will outline the Medicare requirements for G-Codes and severity modifiers. The webinar is being offered by Clinicient in response to the July 1 deadline dictating that Medicare claims must contain G-codes to report Functional Limitations. According to the mandate, claims without the appropriate G-codes and severity modifiers will be returned unpaid, potentially placing additional documentation burdens on therapists and impacting practice cash flow.
During the webinar, Beckley will review the functional limitation reporting program, expanding the discussion to include what is required and when with reporting. A news release from Clincient notes that Beckley will also emphasize the growing importance of clinical documentation, outlining practical case studies and how to use the G-codes and impairment ratings, and best practices for generating documentation that demonstrates medical necessity from an auditor's perspective. The webinar will also address how to ease functional limitation reporting for therapists and staff.
The webinar is slated for 1:00 pm EST/10:00 am PST. The release notes that the webinar will also be recorded and a link to the posted recording emailed out to all registrants.
To register, click here
Source: Clinicient