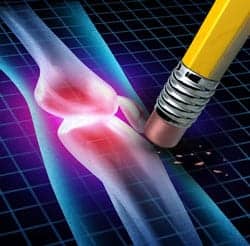 Research conducted by a Boston University biomedical engineer and his colleagues has reportedly yielded a new joint lubricant that may provide longer lasting relief to osteoarthritis (OA) patients. According to a university news release, the synthetic polymer is designed to supplement synovial fluid.
In order to achieve temporary symptom relief and adequate lubrication to prevent further degradation of the cartilage surfaces that cushion the joint, Mark W. Grinstaff, PhD, Boston University professor of biomedical engineering, and Brian Snyder, MD, PhD, orthopedic surgeon, Beth Israel Deaconess Medical Center/Harvard Medical School, and their team advanced the synthetic synovial fluid.
Grinstaff notes that the team's previous studies indicated the biopolymer as a superior lubricant in the joint, surpassing the leading synovial fluid supplement and suggested it was similar to healthy synovial fluid. "When we used this new polymer, the friction between the two cartilage surfaces was lower, resulting in less wear and surface-to-surface interaction. It's like oil for the joints," Grinstaff explains.
The university reports that the polymer was originally produced in 2012 for another study and mimics some of the properties of natural polysaccharides. Grinstaff classifies the polymer as slippery, leading researchers to wonder if it could be used as a lubricant and where it would be useful. "That's how we thought of using it as a potential treatment for OA," Grinstaff says.
Researchers indicate that one of the benefits of the biopolymer is its large molecular weight or size, which prevents it from seeping out of the joint and enables longer lasting cartilage protection, remaining in the joint for more than 2 weeks.
[Source: Boston University College of Engineering]