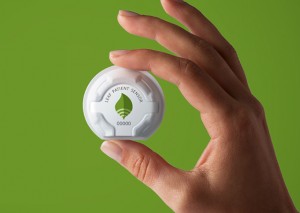 Leaf Healthcare Inc, headquartered in Pleasanton, Calif, recently announced results of a clinical trial, which concluded that the company's wearable patient sensor can aid healthcare professionals in "dramatically" improving efforts to prevent pressure ulcers.
The multi-phase clinical trial, titled "We're Sensing You!" which examined innovative technology to improve patient-turning compliance, was presented at the American Nurses Credential Center national Magnet Conference in Dallas. According to a news release from Leaf Healthcare Inc, the company's wearable patient sensor helped increase compliance with hospital turn protocols from a baseline of 64% at the onset of the trial, to 98% after the monitoring system was deployed.
The Leaf system is described as a small, lightweight, wearable sensor that is designed to electronically monitor a patient's position and movements. The sensor gathers data, then transmits it wirelessly to central monitoring stations or mobile devices, and allows caregivers to monitor patient movement and position, according to the Leaf Healthcare Inc media release. Also according to the release, the system—which recently received 510(k) FDA clearance—provides alerts to ensure that patients who wear the sensor are repositioned per prescribed turning schedules.
[Source: Leaf Healthcare Inc]