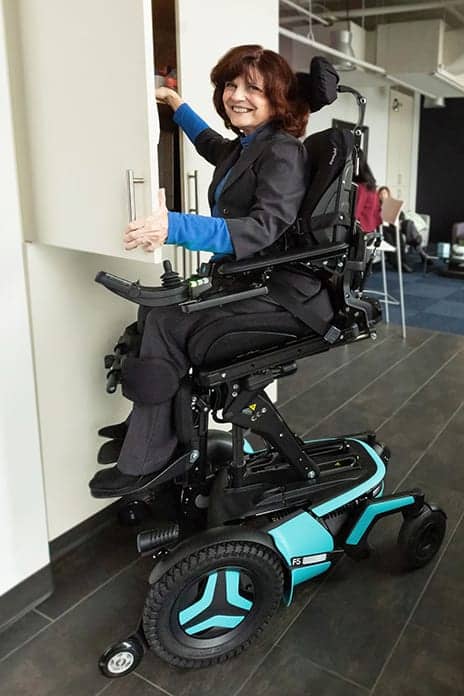 Permobil has updated its F-series modular front wheel drive chair with seating system enhancements that aim to offer improved positioning and user comfort, plus a new design that includes optional front and rear LED lights that are twice as bright.
The new F-series, launched globally at the International Seating Symposium in Pittsburgh, features a range of 13 new colors (10 standard and 3 premium metallic options) allowing user more opportunities to personalize their chair.
"The new F-series continues Permobil's philosophy of putting the user in the center of what we do. The new F-series, through its power functions such as ActiveReach, is designed to address the medical, functional, and social needs of the person using the chair," says Todd Walling, senior vice president of sales- Business Region America, in a media release.
"For people who sit in a wheelchair all day, every day, we realize that it is as important to them how they look as anyone else. So, we are delighted with the updated aesthetics of the new F-series and the expanded color palette they can choose from," he continues.
"The new F-series isn't only an update to the look of the chair, but also upgrades to the engineering side including an increase to the drive speed while the seat is in an elevated position allowing up to 3.2mph, a functional walking speed for keeping up with family and friends." states Linda Nilsson, Global Product Marketing Manager.
Key features available on the new F-series include:
Actuators doubled in strength to allow users up to 300 lbs to use the power recline function that enable movement and body positioning to prevent secondary complications.
ActiveReach functionality tilts the chair forward up to 45° (30° for the F3 model) and raises it to extend functional reach and aid transfer to and from the wheelchair.
ComfortRide and ComfortRide Pro independent all wheel suspension system provides enhanced vibration reduction for exceptional ride comfort and drive performance.
ActiveHeight seat elevation of up to 14 inches (12 inches on the F3 Corpus) gives the user independence to reach higher, enables eye-to-eye contact and the possibility for elevated driving at walking speed.
The F-series has three models: the F3 Corpus, featuring a compact footprint and tight turning radius for maneuvering in tight spaces; the F5 Corpus, with a hybrid of power and performance for active lifestyles at home and in the community; and the F5 Corpus VS, which offers the same features as the F5 Corpus with the added benefit of a standing functionality.
The modular chassis is a four-wheel power wheelchair and the drive wheels are positioned toward the front seating system to allow for indoor and outdoor performance and maneuverability.
[Source: Permobil]