With obesity in America on the rise, you can bet that many people will again make a New Year's resolution to lose the weight. For an average-sized person, dropping 10 to 20 pounds will make them feel better. But what about the person of size who needs to drop 300 to 400 pounds in order to survive? For that person, help has arrived in the form of bariatric rehabilitation.
STARTING AT THE BEGINNING
According to Michael Dionne, PT, director at Choice Physical Therapy, Gainesville, Ga, the state of bariatric rehabilitation is in its infancy because a lot of facilities looking to specialize in bariatric care lack funding for the equipment needed to treat these patients.
What facilities are starting to move to is described in Dionne's book, Among Giants: the bariatric suite, which is a room specialized for the care of patients of size.
In the bariatric suite, Dionne says a 5-foot service area around the bed is ideal because it enables the caregiver to help maneuver.
"Consider that the patient is using a 35- to 40-inch-width rolling walker and you are guarding them. You are standing on the side so that you can guard the patient or roll their wheelchair around the foot of the bed and be on the side of them," he says. "The point here is that if you are walking somebody, and let's say they start to stumble and you need to redirect them toward the wheelchair, you cannot be behind them because you will end up trapping yourself. That's why we want that 5-foot service area around the bed."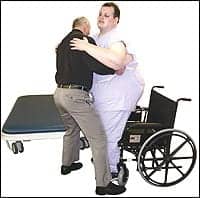 A 5-foot service area around a bariatric patient's bed is ideal because it gives the caregiver ample room to maneuver the patient.
In addition to the wider service area around the bed, Dionne says a double-entry door to the suite makes more sense. He says most hospital doors are 43 inches wide. A double-entry door (about 58 inches wide) makes it easier to maneuver the bariatric bed in and out of the room.
"A double-door entry is ideal so that you can get the bariatric bed in and out to meet your evacuation policy, as well as bring equipment in and out without compromise due to architectural barriers," he says. "The double-door entry is just a huge bonus in that regard."
Dionne also believes a bathroom in a bariatric suite does not make sense.
"If you have a patient in the hospital who has a dependency, they're not going to use the bathroom," he says. "That bathroom takes up 30% of the room. Wouldn't it be neat if you could open up that bathroom area to increase the service area around the bed?"
His recommendations for architectural designs of a bariatric suite also include a foldaway or retractable wall separating a bathroom area from the regular room. This enables the actual room space to be extended, in addition to providing a floor-mounted toilet and wall-mounted nozzle for showers.
"You could roll somebody in a shower/commode bariatric chair, close the partitioned wall, and give the patient probably the first shower that they have had in, some cases, years," he says. "It just increases the versatility of the whole care environment."
Dionne acknowledges that there are drawbacks to the bariatric suite, including limited room availability and too many patients. In this case, he makes an argument for equipment portability and the bariatric triad, which includes an expandable support surface bariatric bed, ceiling lifts or weight-rated portable bedside lifts, and a weight-rated wheelchair.
"This way you can actually follow the patient from the emergency room all the way through acute care to transitional care, long-term care, and home care," he says. "The advantage of the bariatric triad is that it's portable and you can transition through multiple levels of health care in a cost-effective manner.
"I think you've got to incorporate the bariatric triad with the bariatric suite," he says. "You need both, but do not lock into one philosophy. There is a [significant] advantage to portability."
TREATING PATIENTS OF SIZE
Andover Village Retirement Community/Miller Health Care Center, Andover, Ohio, is just one of many centers throughout the nation available for helping patients of size regain control of their lives. However, special needs must be recognized when treating these types of patients.
"We have to recognize the comorbid conditions, especially in regard to respiratory status, cardiac status, and joint integrity because, depending on body shape and preadmission history, their ability to tolerate certain types of activities is going to be very limited," says James Regan, facility coordinator for the rehabilitation department at Andover. "We have to make sure that we're looking at the whole person, not just what they want to do but what they can do without hurting themselves more."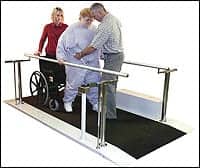 Awareness, sensitivity, and team interplay are important factors when focusing on treatment of bariatric patients.
The philosophy behind treating bariatric patients at Andover focuses on team interplay. It is not just a matter of placing a patient on a diet, helping them exercise, and then releasing them to go home.
Regan says the rehabilitation department works closely with nursing, social services, physicians, and dieticians to come up with the best plan of action for rehabilitating their patients.
"Some of the things that we have to be aware of in taking care of these folks is what their needs are outside of physical rehabilitation, and that is psychosocial needs and financial needs, so we have to work together to try to come up with an effective way to deal with each individual," he says.
ON THE MOVE AGAIN
Dionne became involved in treating bariatric patients in the mid 1980s. Faced with treating a 1,000-pound man with a 4-year-old cognitive ability, the 138-pound clinician started creating and innovating.
"One of the philosophies I have in therapy is that I will push a patient," he says. "Giving a patient of size a 2-pound ankle weight or dumbbell is a waste of time. You have to do more than that. You have to put them into a posture or a position where they feel like they're moving in their own line of gravity. If you're doing therapy, you've got to get the patient moving. That's the key."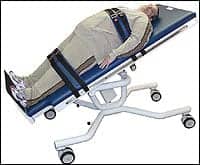 Heavy-duty tables and devices are useful when transferring patients.
In reference to his book, Dionne says he takes six fictional characters with bariatric body types and transitions them through health care scenarios while addressing each patient based on their cardiopulmonary tolerance to various postures in order to restore their baseline level of function.
"That's a key point because if you fail to do that, what happens when taking a patient in the wrong direction is, you would end up with catastrophic consequences, and I'm talking about death," he says. "If somebody doesn't tolerate a prone posture, they'll go into respiratory distress."
At Andover, Regan says the rehabilitation department works closely with the nursing department to get their patients up and moving again.
"We work on strengthening, range of motion, and standing," he says. "Some of these people haven't even been out of bed in years. We work with people and build their strength until they essentially are able to bear their weight with support, like standing at the parallel bars."
Regan stresses that the therapists should not pick up patients, nor hold them up on their feet, because both parties could suffer injury. Instead, heavy-duty mechanical lifts are used to help transfer patients.
"We work on bed mobility, sitting bedside, extension, and inflection on muscles—especially the legs," he says. "If somebody cannot support their own weight, we will not pick them up to stand them. We don't force them to stand."
He says the rehabilitation team uses heating modalities to warm up a patient's muscles and joints, so that minimal stress takes place during therapy sessions.
And getting patients to the point of standing does not happen overnight.
Regan says the therapist and patient will work toward an objective. For example, in order to get a patient up on their feet, therapist and patient will work on exercise, then standing, then getting the patient to take a few steps. Once the patient has walked the length of the parallel bars, Regan says they are transferred to restorative care, where endurance building begins.
"Once they've reached specific goals, like a certain distance or being able to walk to the bathroom independently with the walker, [restorative] refers them back to us and we start working on [such goals as] stairs and gait, so they can start using more muscles and building more endurance, and trying different functional [therapies]," he says.
Andover is equipped with a full weight gym; however, patients must have lost enough weight to be able to use the machines and they must have the ability to be able to handle that type of physical activity.
"We have [clients] supervised very closely when it comes to that kind of thing, and we don't move them onto any type of equipment until we feel they are ready," he says.
THE IMPORTANCE OF DIET
Regan says Andover sees a variety of patients of size, including those with renal disease or cardiovascular disease, and patients who, other than being obese, are fairly healthy.
"The [greatest benefit] is to provide them with a healthy, well-balanced diet while increasing exercise to help them lose weight," he says. "We cannot prevent them from augmenting their diet. They need to develop their own discipline."
Dionne says that diet starts once a patient is deemed medically stable.
"When you diet someone, you're restricting calories, which can contribute to cardiac irritability," he says. "What we say in the early phases is you do not diet these patients. You keep them stable and increase activity. It's a safe progression to minimize the cardiac irritability."
Dieticians at Andover create an individualized diet plan for their patients. Regan says they essentially try to establish new eating behaviors that will benefit their patients.
"We have tried to help them develop new habits, and one of them is a pursuit of wellness through exercise, diet, and health," he says.
EDUCATION AND MOTIVATION
In addition to diet and rehabilitation, Andover provides its patients with both support and counseling, whether it is outside support, family support, support groups, or outpatient therapy.
"We try to identify what resources are available to them based on where they live that they should pursue, and hopefully they will take those habits that we've tried to help them develop and use them," Regan says.
The large support group at Andover, in conjunction with education from social services, helps keep patients motivated. In rehabilitation therapy, Regan says frequent discussions are held between therapist and patient to take what they have learned in therapy and keep moving forward.
"We essentially do evaluations, set up their status, see what their goals are," he says. "Everybody works together to see how much weight they want to lose, what they need to be functional, what are the limitations of their environment, etc."
He says the social services department is key in educating both patients and families with the same information. That department also is extremely important in making sure the family or resident has the resources to continue their path to success once they have left Andover, in addition to keeping the patient's physician up to date.
But what it all comes down to is, motivation and attitude are the most important factors for a high success rate.
Because bariatric patients see change occur so slowly, it is easy for them to get easily discouraged, Regan says. Andover's support groups help keep patients motivated and looking forward.
And again, he stresses that the process does not happen overnight. One patient currently at the facility has been there for about 18 months. When he first arrived, he weighed around 550 pounds. So far, he has lost more than 200 pounds and has had the skin apron surgically removed. Regan says they are now working with him on activities of daily living through occupational and physical therapy.
"Right now, he's using a walker and he's walking distances that he hasn't been able to do in 5 years. He's an excited guy," he says. "He's motivated again because now that they've taken the apron off and he doesn't have that in his way anymore, he's getting stronger and he's able to do more things independently. The motivation kicks in because he can now start to see the end of the road. It takes a long time to get where this gentleman is at now."
FAMILY SUPPORT IS CRUCIAL
"People are staying here away from their family where they have children and spouses," Regan says. "We're not your traditional nursing home, but it is still institutional living.
"The families come to visit, they talk on the phone. They're very key in keeping people motivated to get better and get out."
Morgan Saffari is a contributing writer for  Rehab Management.
The Right Equipment for the Job
Working with the obese requires the appropriate equipment to ensure the safety of both patient and caretaker.
One of the keys to working with bariatric patients is making sure you are using the right equipment, from lifts to slings to side-glide devices and accessories.
Michael Dionne, PT, director of Choice Physical Therapy, Gainesville, Ga, says the key to working with bariatric patients is what he termed the bariatric triad: an expandable support surface bariatric bed, a ceiling or bedside lift that is weight rated, and a weight-rated wheelchair.
Brian Wright, vice president of education at a Franklin, Mass-based manufacturer of bariatric equipment, says it is critical to have the right kind of equipment to treat bariatric patients. For example, Wright's company offers a portable lift that weighs only 95 pounds, but has a lifting capacity of up to 660 pounds. It features walking arms that look like parallel bars to help patients with gait training. Patients are able to stand underneath it and are supported by the walking arms and a harness.
Wright also emphasizes the need for caregivers to pick the safest equipment based on specific patient characteristics, not just weight and capacity.
"The priority is to fit the patient's needs and accommodate special needs first," he says.
He states that there are four points caregivers should look for when choosing the safest equipment.
"Stay away from 'weight' and 'equipment capacities' as the major component to picking out equipment and focus on patient needs," he suggests. "Certainly, products need to safely support the loads for liability, but products need to primarily adapt to patient care."
Determine the procedure of the task and a caregiver's physical requirements to perform the task.
What are the physical limitations of bariatric patients? "Identifying changes in a patient's physical characteristics as they get bigger helps to define proper practice solutions," Wright says. "As persons get bigger, they have greater hip abduction and external rotation, less knee flexion, difficulty rotating from side to side, maybe a wandering panus, and gluteal and shoulder shelves that increased with girth."
Finally, for therapists, Wright says it is extremely important to have the right equipment. "There is a great need for equipment that will help obese patients to stand safely and ambulate safely without obstructing gait patterns and overcoming fatigue midway through training to get the most out of the patient's therapy," he says. "Limb lifters and other devices can equally assist a therapist with handling persons of size."
—Morgan Saffari