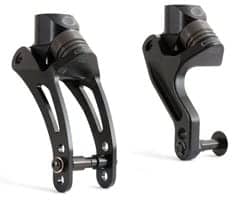 The Mesa, Ariz-based company Out-Front recently spotlighted its new suspension fork, designed to smooth wheelchair users' ride by maximizing vibration dampening in both vertical and horizontal directions, while minimizing vibration transfer to the user's body.
The Glide suspension fork is available in both dual and single-sided fork designs and is marketed in three different durometers (elastomer hardness) based upon the weight of the user.
The product is comprised of lightweight aluminum and the elastomer is made of polyurethane. The company adds that the Glide is available on new TiLite wheelchairs and it is also actively seeking additional OEM partners to ensure the Glide's availability to a wide audience.
For more information, visit www.out-front.com/glide
[Source: Out-Front]