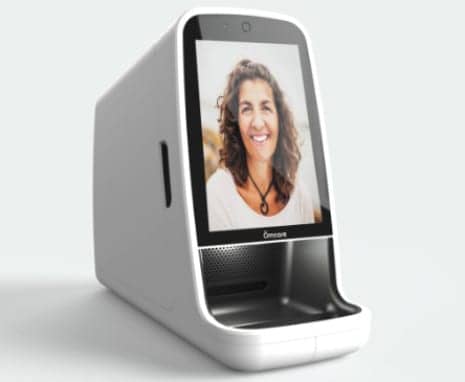 ?mcare LLC's web-enabled, audiovisual, medication-dispensing telemedicine system for the home has received another patent—its third, the company announces.
The ?mcare Telemed System is designed to give caregivers of all types—from physicians, pharmacists, and home care providers or family members—the ability to see and speak to elderly or disabled dependents and to confirm compliance with medication treatment plans from anywhere. The system facilitates remote monitoring via visual confirmation of a patient's actions, which supports telehealth and virtual care services and gives family members greater peace of mind.
The recent patent (U.S. Patent No. 10,347,377) issued by the United States Patent and Trademark Office will allow ?mcare to bring products to market that meet the growing demand for remote monitoring technology that supports the long-term goals of improving patient outcomes, medication adherence, and quality of life.
"Our mission is to give caregivers of all types—from physicians, pharmacists, home care providers, and families—the ability to see, speak to, and confirm that patients and loved ones are following their care plans," says Lisa Lavin, founder and CEO of ?mcare, in a media release.
Lavin created ?mcare after realizing the potential for marrying advances in two-way, remote communications technology with the growing need and consumer demand for in-home care and aging in place. This is the fourth patent for Lavin, who holds three related patents for audiovisual and dispensary capabilities, the release continues.
[Source(s): ?mcare, PRWeb]