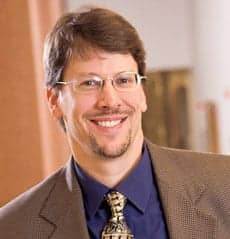 Ohio State University Wexner Medical Center reports that its researchers at the Center for Brain and Spinal Cord Repair have successfully restored immune function in spinal-injured mice. The recent study provides an explanation for why spinal cord injury (SCI) patients develop "central syndrome," according to Phillip G. Popovich, (pictured right) PhD, professor of neuroscience, Ohio State's College of Medicine, director of the university's Center for Brain and Spinal Cord Repair.
"Their immune systems, which are required to fight off infection, are suppressed due to damage or malfunction in regions of the spinal cord that help control immune function," Popovitch explains.
The study, which appears in The Journal of Neuroscience, found that autonomic dysreflexia develops spontaneously in spinal cord-injured mice and becomes more frequent as time passes from the initial spinal cord injury. The researchers note that daily occurrences that activate normal spinal autonomic reflexes, such as bowel movements or emptying the bladder, become hyperactive and suppress immune function in SCI patients.
Researchers were reportedly able to restore immune function in mice with SCIs using treatments that inhibit norepinephrine and glucocorticoids, which are produced during the onset and progression of AD. The researchers add that in a patient with a high-level SCI, briefly inducing autonomic dysreflexia impaired immune function. Researchers say the results confirmed that their findings in the mice also have relevance to humans.
Yi Zhang, first study author, postdoctoral neuroscience researcher, states that autonomic dysreflexia causes immune suppression in part by releasing into the blood and immune organs high levels of immune modulatory hormones that nonselectively kill mature and immature white blood cells in the spleen.
Zhang adds that while further research is needed, "Our research is laying the groundwork for potential therapeutic targets for reversing central immune depression sundrome."
[Photo Credit: Ohio State University Wexner Medical Center]
[Source: Center for Brain and Spinal Cord Repair]