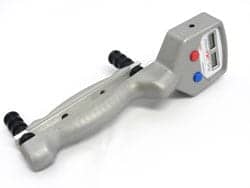 Hoggan Scientific, Salt Lake City, has introduced a new microFET Digital Handgrip dynamometer. The microFET Handgrip is engineered to provide an alternative handgrip to the microFET dual-function handgrip and pinch. The device was recently displayed at the APTA Annual Conference, according to the company, and received positive reviews.
The microFET Handgrip features a durable lightweight molded body, and uses precision electronic load cells to eliminate the possibility of oil leakage that may occur with hydraulic units. The device also provides a digital display and newly incorporated Bluetooth technology for use with either Hoggan clinical software or data collection research software.
Hoggan adds that with the introduction of the new product, it will also be providing a special, limited introductory offer.
For more information, visit www.hogganhealth.net or contact [email protected].
[Source: Hoggan Scientific]