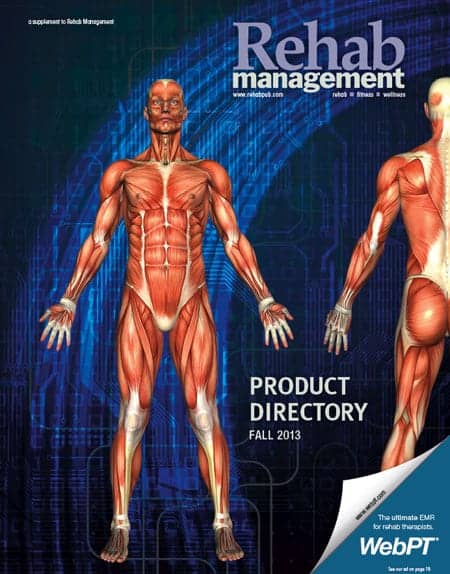 The 2013 Rehab Management Fall Product Guide is avaialble to help clinicians explore the current market of technologies and services available to the phsycial rehabilitation community. Published to serve both physical therapists and occupational therapists, as well as those who manage rehab facilities, this special issue is packed with product profiles, Web resources, and in-depth feature articles.
IN THIS ISSUE
The 2013 Rehab Management Fall Product guide includes in-depth explorations created by authors from leading facilities such as Craig Hospital, Good Shepherd Rehabilitation Network, Harvard Medical School, Bon Seacourse Richmond Hope Therapy Center, and more.
PRODUCT PROFILES
This special puts the spotlight on important products for categories such as: Facility-Based Equipment, Mobilty Aids, Pain Management, and Products for the Home
WEB RESOURCES
An entire section in this Fall Product Guide is dedicated to helping steer readers toward online sties where important information about manfuactures and products is available with the click of a mouse button.
Click here and start exploring the 2013 Rehab Management Fall Product Guide