The current reimbursement environment calls for therapists to ensure that they make the most of time spent with their patients. And, while traditional hands-on therapy techniques are a powerful part of the therapist's toolkit, they sometimes need the horsepower of technology to support their approach to treatment, whether aided by sophisticated electronics or simple but durable large supporting structures. The marketplace for these types of facility-based equipment is continually changing to meet the needs of busy rehabilitation facilities. To help therapists stay in the loop regarding this fast-moving category, Rehab Management compiled this showcase of some of the top products currently on the market.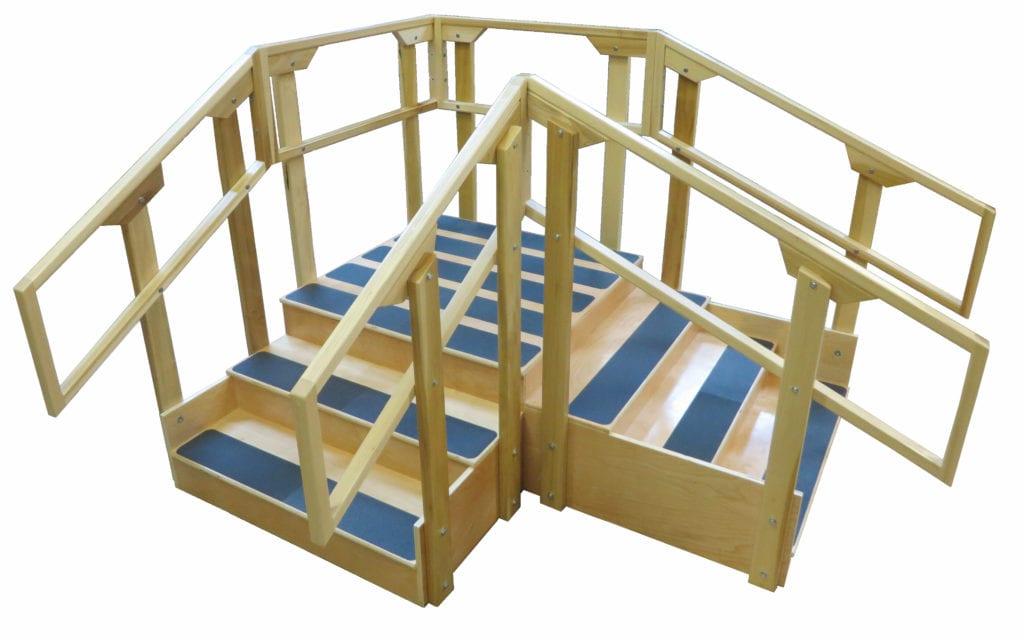 ADA Convertible Training Stairs
Bailey Manufacturing Company, Lodi, Ohio offers ADA Convertible Training Stairs (Model 815), consisting of two sections designed to lock securely together and not unfasten accidentally. Stairs may be easily converted from a straight line along a wall to a right angle. Constructed with solid and engineered hardwood, they can support patients that weigh up to 500 lbs. Measuring 36″ wide, they feature a dual handrail design at 35″ and 18″ for adults and children, a 6″ (3 each) and 4.5″ (4 each) step height, an 11″ tread depth, with anti-slip tread and platform surfaces. Training stairs are used to rehabilitate patients with walking and balance issues. Rehabilitation of the leg muscles and maintaining balance is greatly enhanced using training stairs with the appropriate handrails, step width, and non skid surface. Climbing and descending stairs uses different muscles from walking, and training stairs give patients a safe environment in which to practice and restore ability and confidence.
For more information, contact Bailey Manufacturing Company, (800) 321-8372; www.baileymfg.com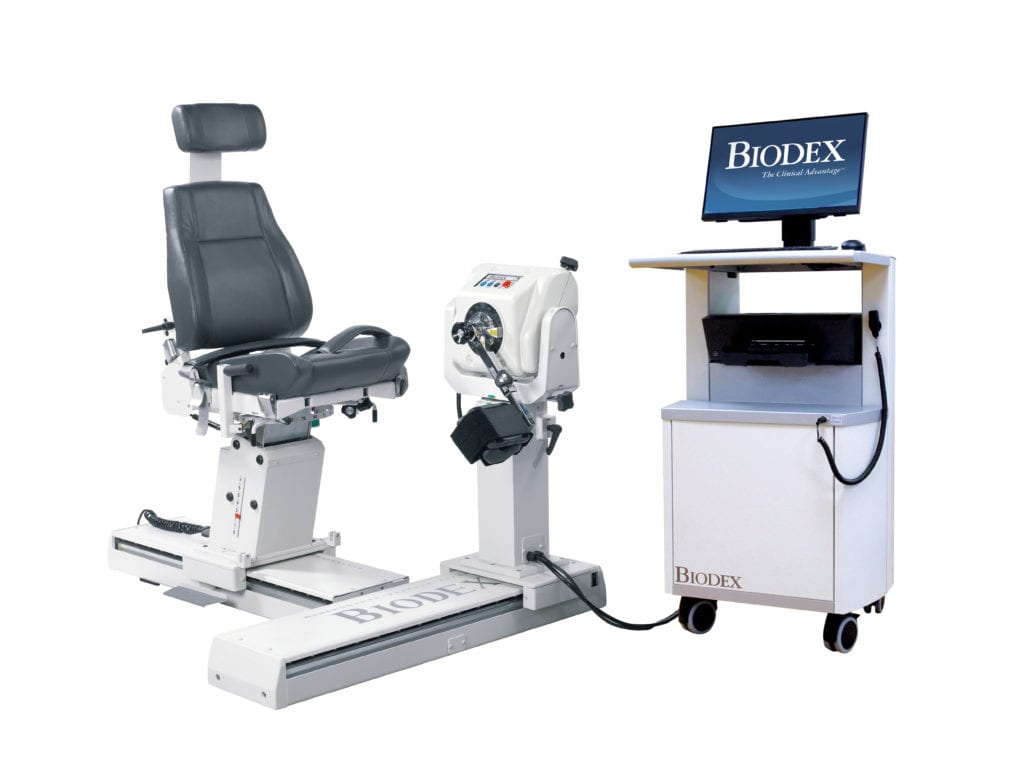 Next-Generation Software for the System 4 Dynamometer
Biodex, Shirley, NY, releases redesigned Biodex Advantage BX software, featuring a modern interface that provides more streamlined functionality and intuitive navigation while maintaining testing and training accuracy. Popular in sports medicine for isokinetic tests of the knee after ACL reconstruction, the System 4 and earlier versions are engineered to isolate performance data for a broad range of upper and lower body joints.
For more information, contact Biodex Medical Systems Inc, (800) 224-6339; www.biodex.com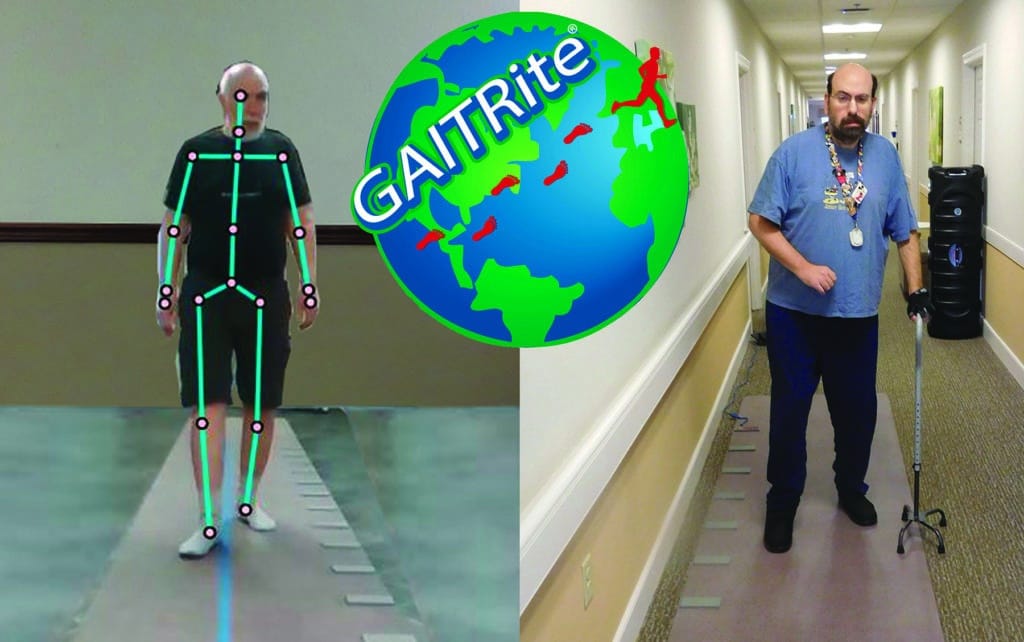 Portable Gait Analysis
CIR Systems Inc, Franklin, NJ, designed the GAITRite family of walkways and modular systems to capture objective data from under the foot as well as basic upper body movement and help therapists improve how they evaluate and document patient status. All standard gait parameters for foot timing, placement, and pressure with upper body position using single-camera markerless video sub system are available. The systems can also provide objective assessment of a patient's status and progress. All data is readily available to synchronize with other systems, such as video and EMG. Robust reporting with multiple export functions is provided.
For more information, contact CIR Systems Inc, (888) 482-2362; www.gaitrite.com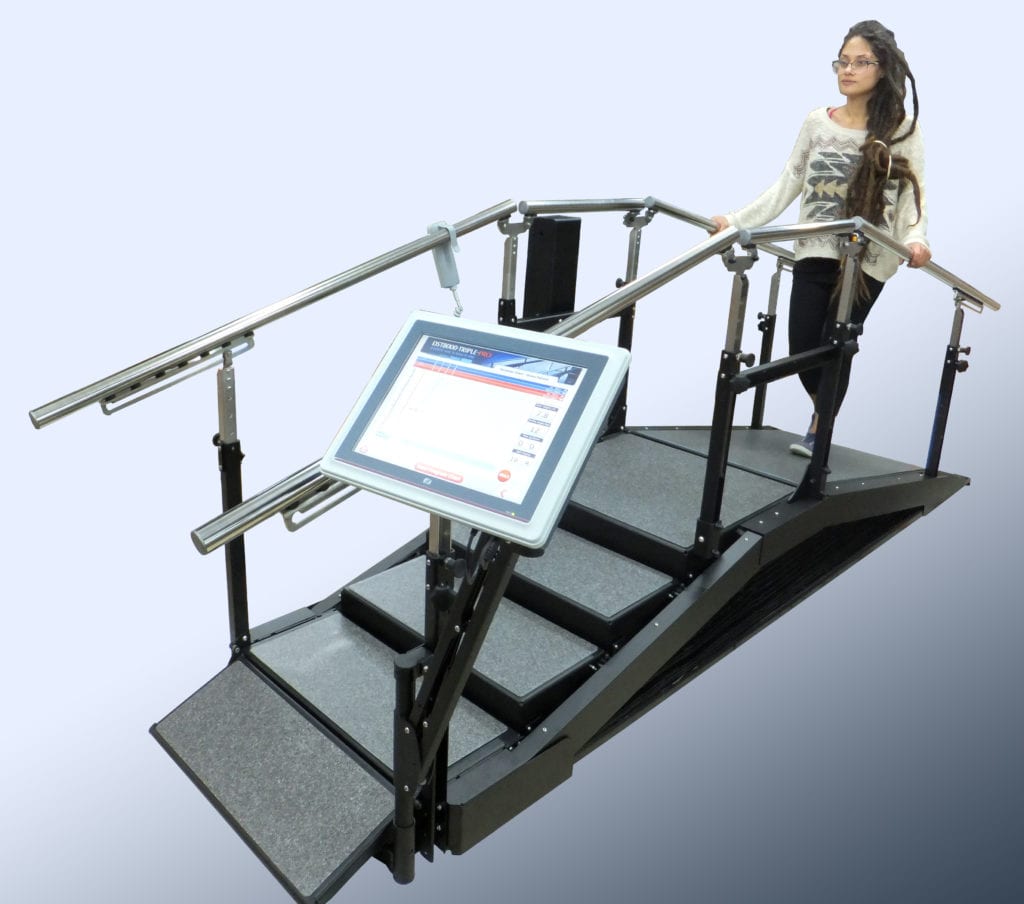 DST8000 TriplePro Stair Trainer
Clarke Health Care, Oakdale, Pa, has developed the Dynamic Stair Trainer DST8000 TriplePro as new technology for the therapy suite. The device combines elevating steps, a gradient incline rising to 26 degrees, and a full horizontal parallel bar in one apparatus. TriplePro is designed to allow clients to begin stair climbing at a level appropriate to their ability and practice skills for the urban environment. An onboard computer displays the patient's performance in past and current sessions. It also compiles DST Factor to estimate potential for future improvement and builds reports for therapists summarizing and comparing clients and sessions. The DST8000 TriplePro was engineered with the aim of enhancing the services offered by therapists.
For more information, contact Clarke Health Care Products Inc, (888) 347-4537; www.clarkehealthcare.com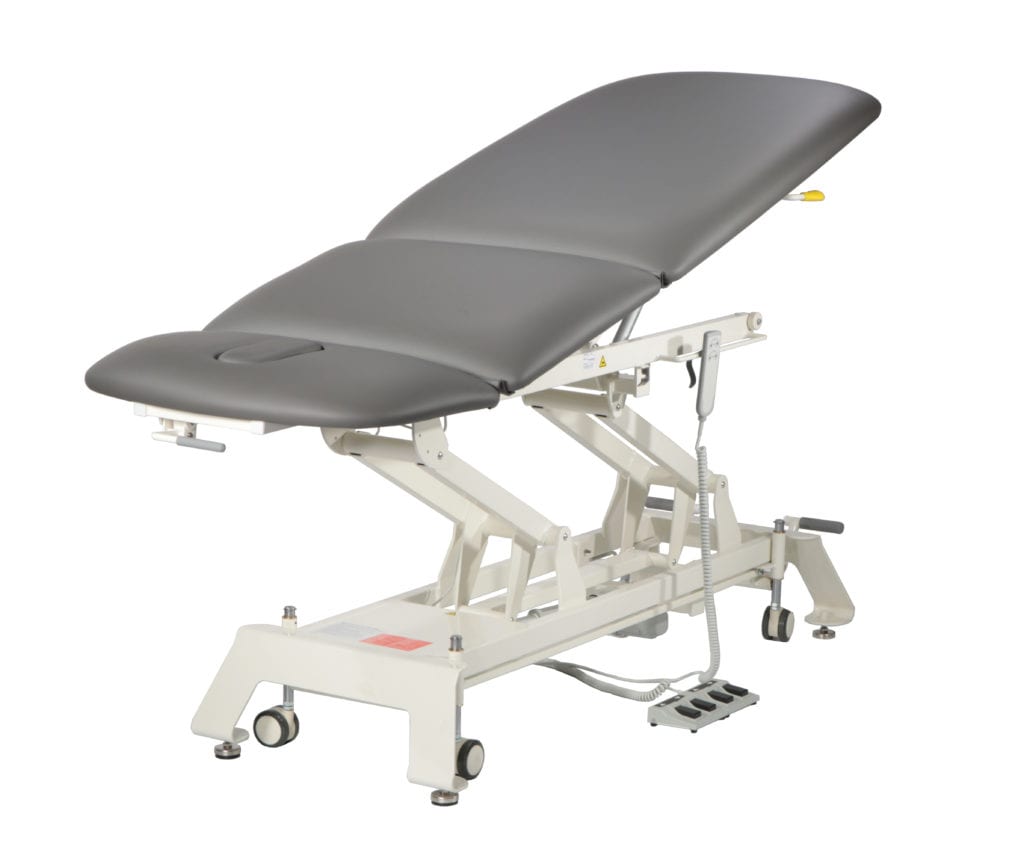 Three-Section Therapy Table
The TITAN 3-Section Table, Model 6083, from Hausmann Industries Inc, Northvale, NJ, is available in black or gray vinyl and features a large height range that can adjust via hand switch or foot switch. The height range spans from a wheelchair-accessible low height of 20″ and a top height of 39″ using an electronically controlled actuator. The 78″ x 29″ cushioned top comes in three sections. The 17″ Headrest comes with a nose hole cutout and filler plug and has a gas spring mechanism that will raise to 40° and drops to -75°. The 20″ mid section comes with a free motorized waist stretch which rises to 40°. The 39″ Backrest/Leg-Section has a gas spring mechanism that rises to 80°. The heavy-duty steel frame with four 3″ locking casters has a patient weight capacity of 440 pounds. The wide footprint gives stability yet easily lifts onto positioning casters with a foot lever.
For more information, contact Hausmann Industries Inc, (888) 428-7626, ext 155; www.hausmann.com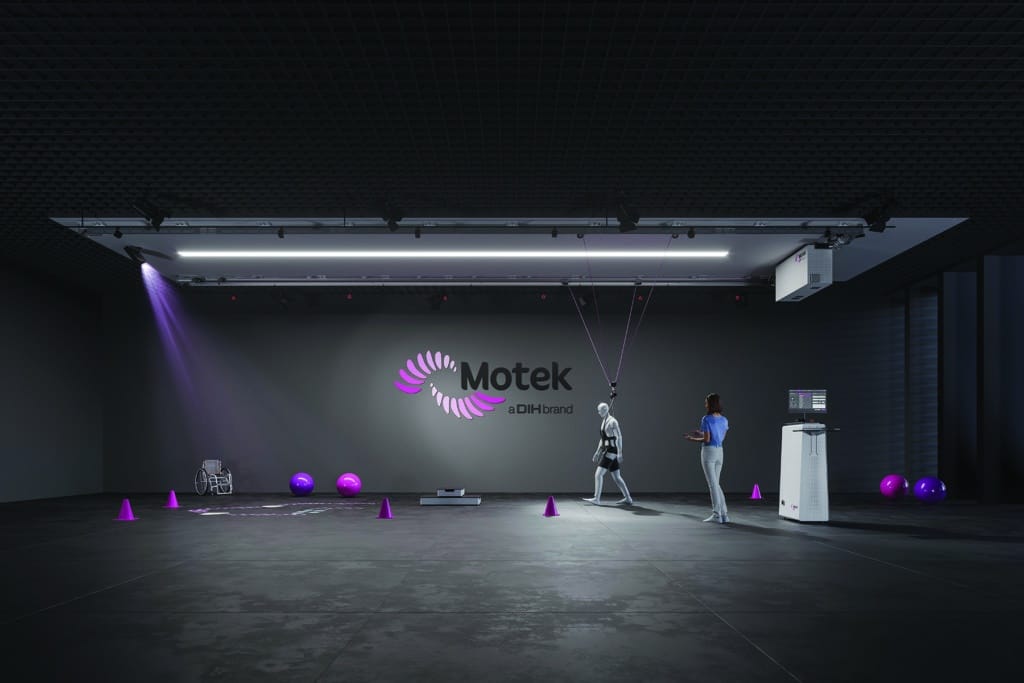 3D Body Weight Support System
Motek, a DIH brand, headquartered in Norwell, Mass, developed the RYSEN as a next-generation 3D body weight support system. Now available in North America, the RYSEN's technical design combines vertical and horizontal assistive forces, offering an intuitive therapy setup with freedom of movement in natural conditions. Following motor learning principles, the RYSEN was designed to cover critical ground for clinical and research purposes, allowing patients to transition into daily life activities by safely exercising at their optimal challenge point. The RYSEN system is intended for patients with disorders affecting locomotion, such as stroke, spinal cord injury, or amputations, who are not able to perform rehabilitation training without bodyweight support.
For more information, contact DIH USA, (877) 944-2200; www.hocoma.com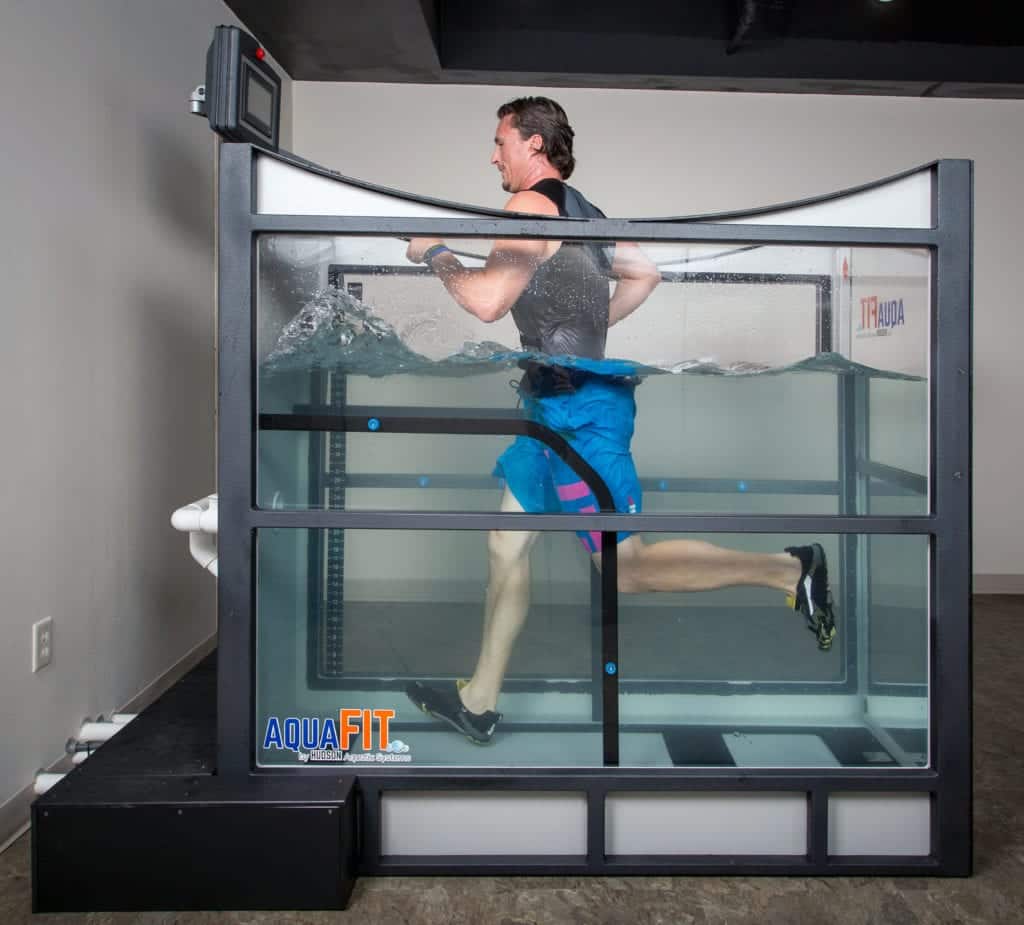 Hudson Custom Therapy Pools
Hudson Aquatic Systems LLC, Angola, Ind, designs, manufactures, installs, and services custom therapy pools according to a facility's existing space and new construction. The company offers three model types—above, partial above/partial in-ground, and in-ground—along with many options and ADA-approved patient lifts. Hudson also offers underwater treadmill systems and cold saltwater spa and plunge products with a 24-hour service line and water quality care program.
For more information, contact Hudson Aquatic Systems LLC, (888) 206-7802; www.hudsonaquatic.com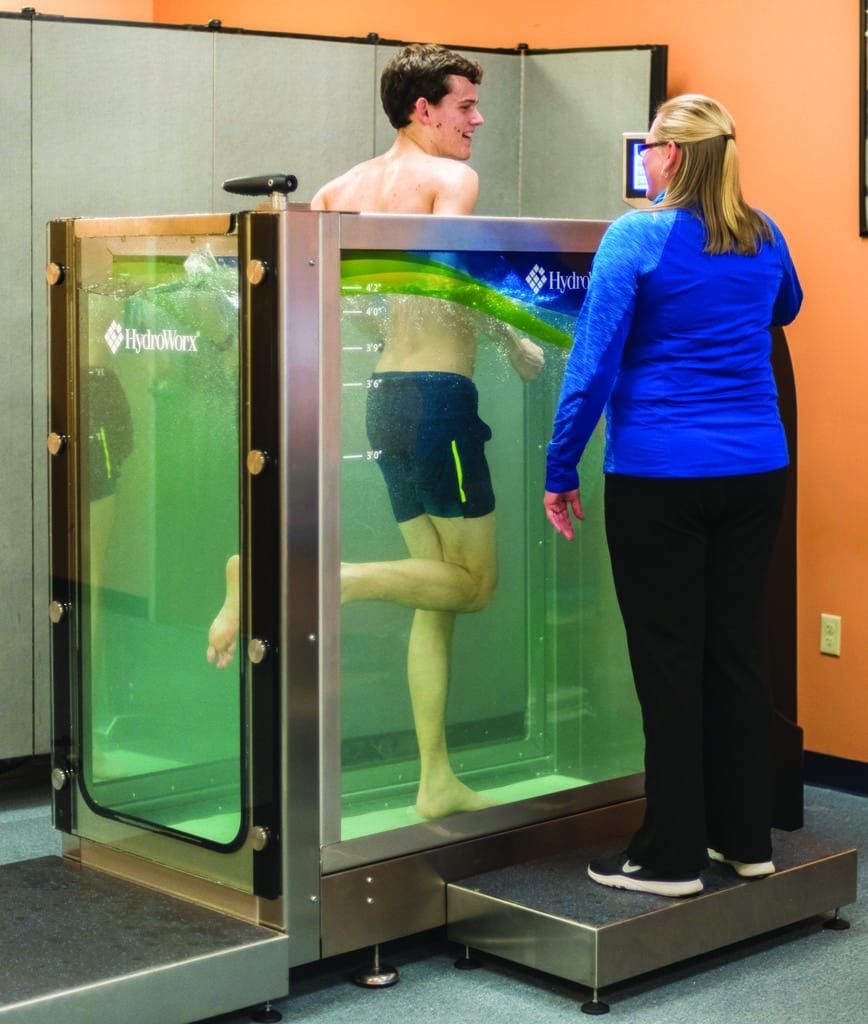 Compact Aquatic Therapy
Made for small spaces and existing facilities, the HydroWorx 200, from HydroWorx, Middletown, Pa, is designed to fit into a compact 100-square-foot space and through a standard 36-inch-wide door. The HydroWorx 200 utilizes warm water and underwater treadmill technology to help therapists provide all the benefits of land movement without additional impact and stress on patients' joints and muscles, and the risk of additional injury.
For more information, contact HydroWorx, (800) 753-9633; www.hydroworx.com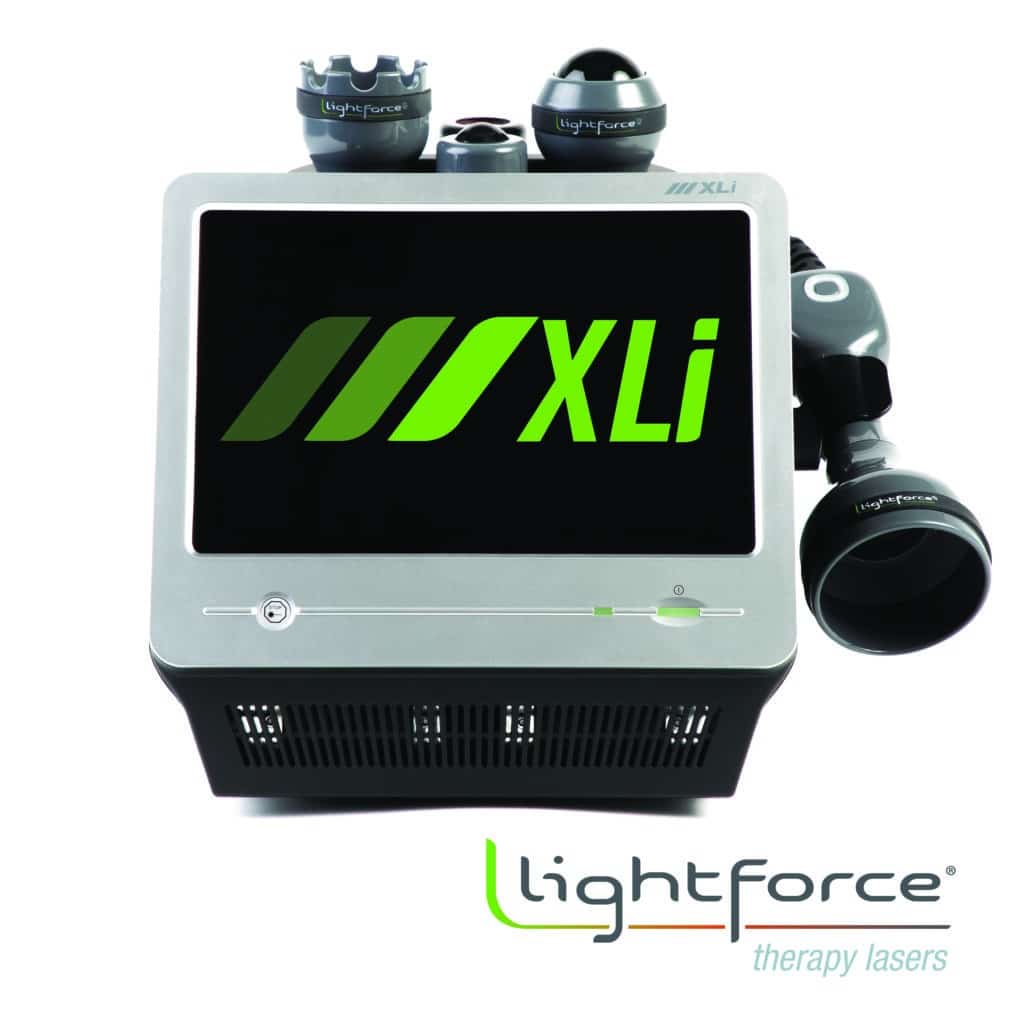 Deep Tissue Laser Therapy
LightForce Therapy Lasers, New Castle, Del, provides therapeutic laser science and technology solutions designed to help relieve pain. Serving physical therapists, athletic trainers, chiropractors, and medical professionals, LightForce Therapy Lasers offer up to 40W of power to reduce treatment time and allow clinicians to treat larger areas and deeper structures more efficiently. LightForce Therapy Lasers can be found in professional and college sports team locker rooms and in several countries around the globe.
For more information, contact LightForce Therapy Lasers, (877) 627-3858; www.lightforcemedical.com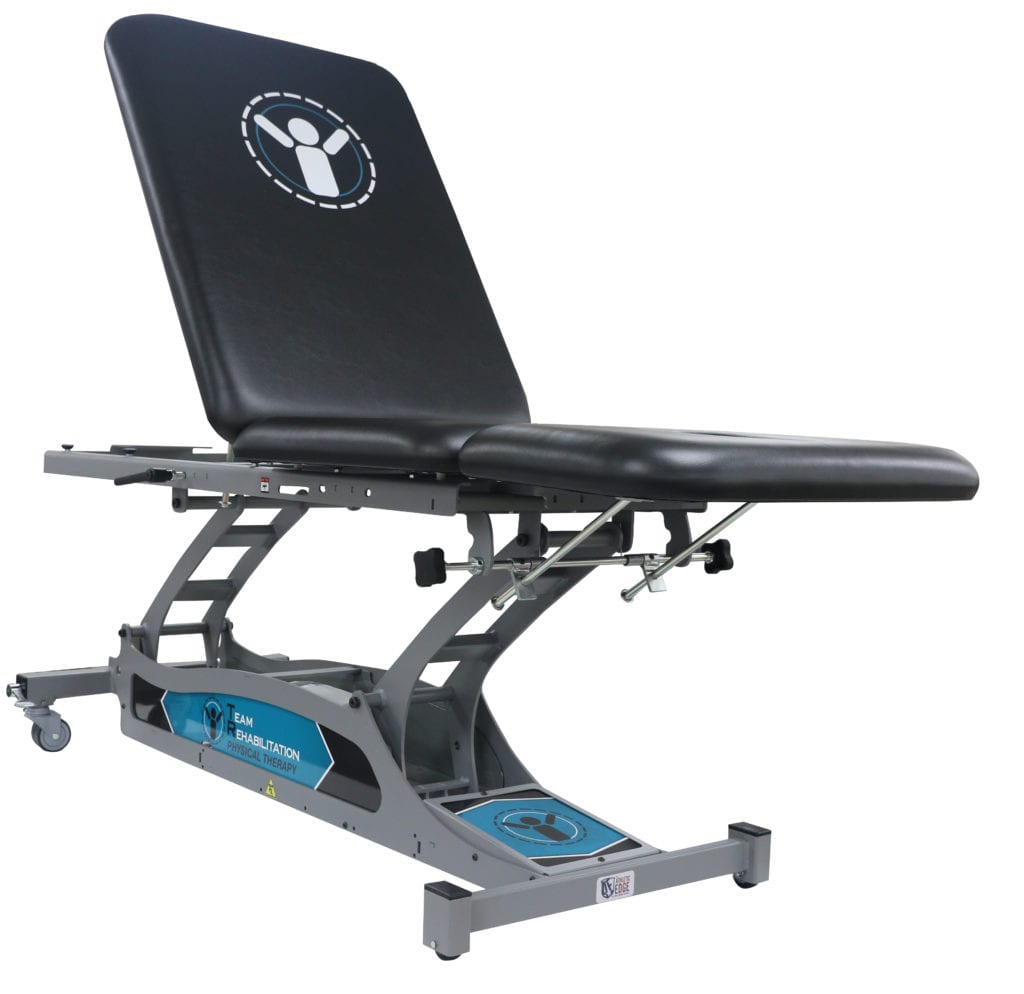 THERA-P Electric Treatment Table
Available from Pivotal Health Solutions' PHS Medical brand, Watertown, SD, the THERA-P Electric Treatment Table can be customized to meet a practice's specific needs by choosing one of six top configurations, adding a dual foot bar, choosing the 30″ cushion or the 40″ bariatric cushion, or adding customized branding. It is constructed from precision-cut flat and tube steel for durability and style. It also features a quiet lift system (with elevating foot pedal) with a 650-pound lifting capacity as well as an easy-to-operate caster system for better ergonomics.
For more information, contact Pivotal Health Solutions, (800) 743-7738; www.phsmedicalsolutions.com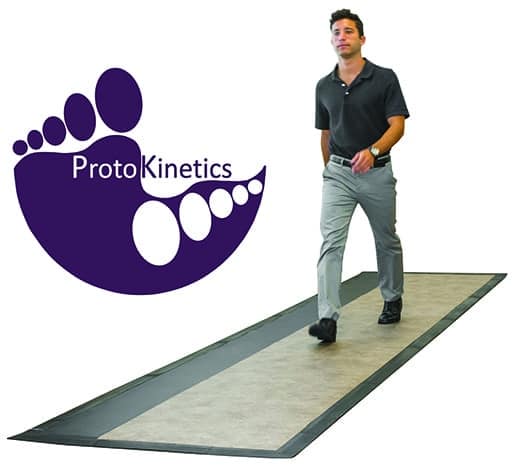 Zeno Electronic Walkway System
Managing and synthesizing accurate gait data is essential to outcomes-driven healthcare. The Zeno Walkway from ProtoKinetics, Havertown, Pa, has a wide, flat surface that allows for the capture of loading patterns of the patients' footsteps without any impedance to assistive device performance. PKMAS software is engineered to automatically eliminate walker tracks, while expertly identifying overlapping steps, to provide robust temporal-spatial measurements for even the most complicated gait patterns. Recent implementation of the enhanced Gait Variability Index (eGVI), automated Four Square Step Test and Limits of Stability balance test are examples of rehabilitation-related outcome measures which can assist in clinical treatment planning and hospital discharge decisions.
For more information, contact ProtoKinetics, (610) 449-4879; www.protokinetics.com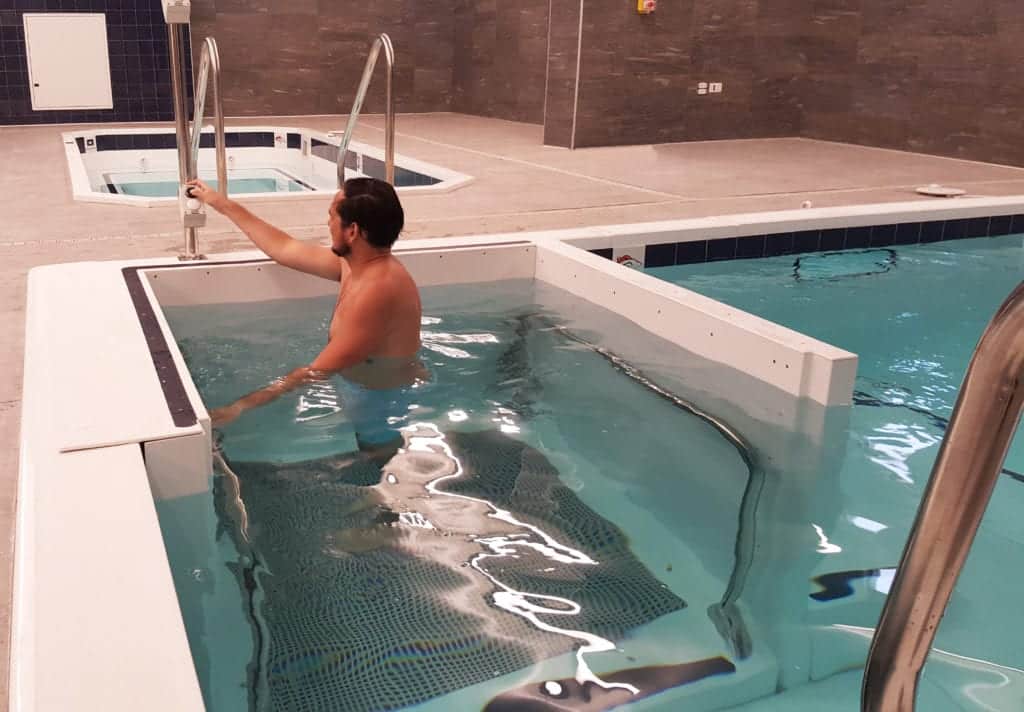 Hydrotherapy Pool
SwimEx, headquartered in Fall River, Mass, offers the 1500 T hydrotherapy pool, which has a 5-foot x 5-foot zero-entry lift that doubles as an exercise and treatment area. The easy-access pool also features a multi-depth treatment zone. Use the lift platform as other clients exercise in the 4-, 5- or 6-foot depth areas. Additional features include a 99-speed water current to measure progress from one session to the next, a still water area, and stairs for functional exercises. The interior can be customized with integrated treadmills, box steps, and benches.
For more information, contact SwimEx, (800) 877-7946; www.swimex.com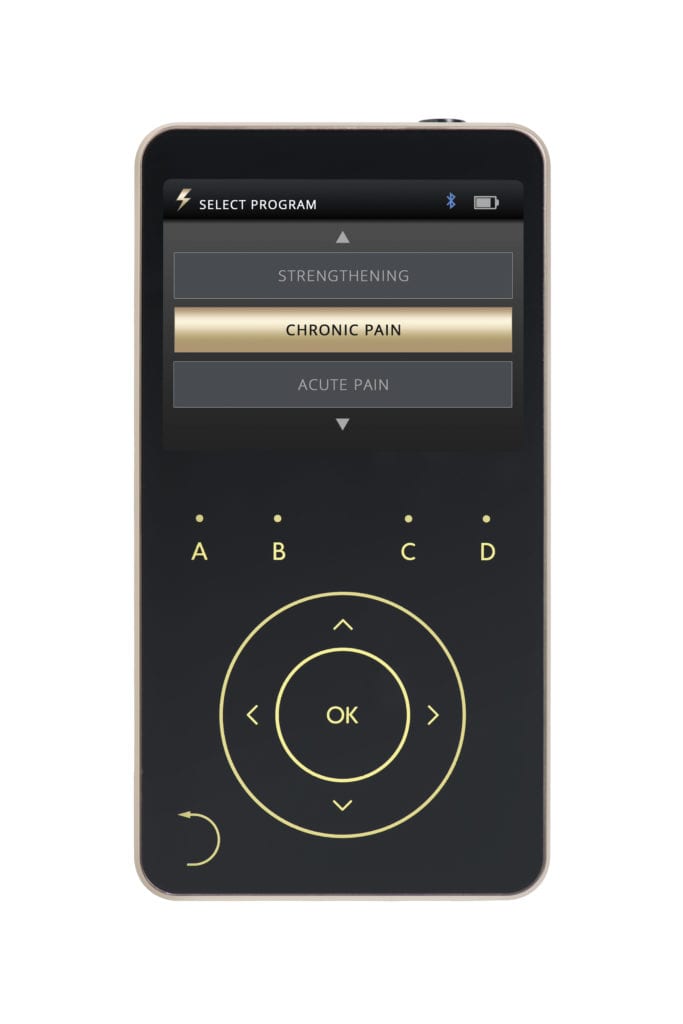 Biofeedback and Elecrostimulation Unit
Thought Technology, Montreal, introduces MyOnyx, a handheld device designed for biofeedback and electrostimulation. The portable, rechargeable, and wireless device is equipped with NMES with fully customizable settings and quick protocols for e-STIM; surface EMG and pressure, and advanced threshold features, for biofeedback; and EMG-triggered stimulation. The MyOnyx app includes engaging and informative feedback options. Therapists can create, adjust, and run assessments and training sessions, then review, save or generate reports using the gesture-based, intuitive interface.
For more information, contact Thought Technology, (800) 361-3651 or (514) 489-8251; www.Thoughttechnology.com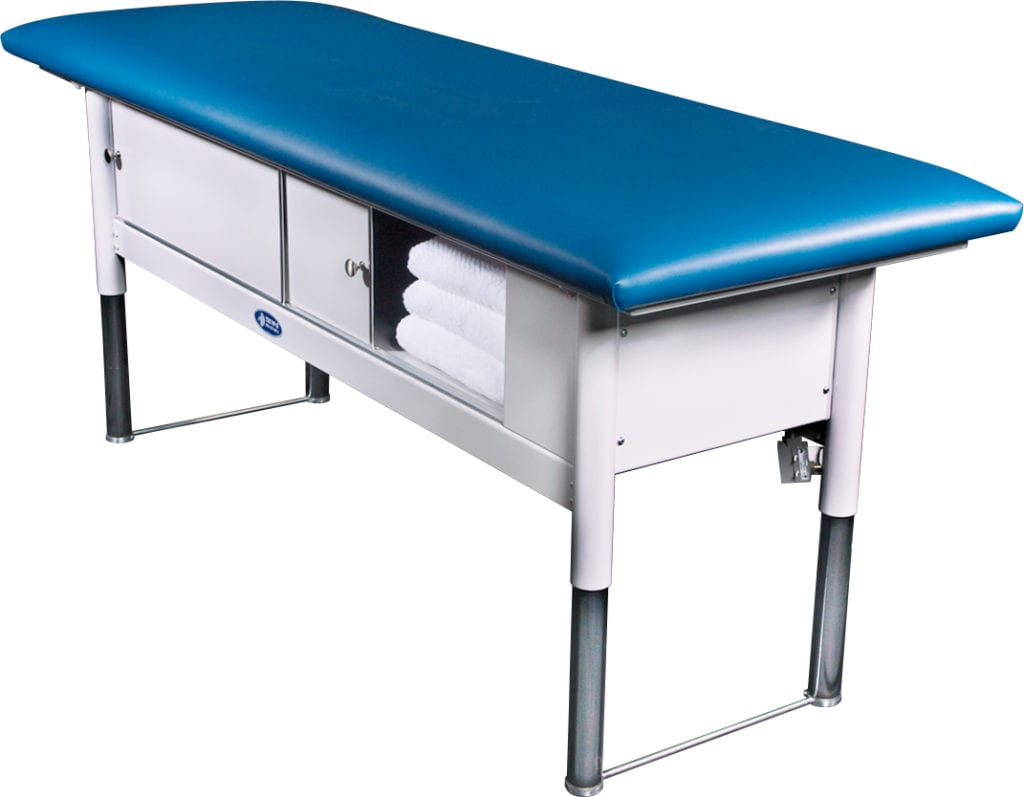 Treatment Table
Tri W-G, Valley City, ND, strives to build products with the strength and safety that customers and their patients need. The company's treatment tables are motorized hi-lo and are made to support 500 pounds of weight and to meet the highest safety standards. Features include a unique storage shelf that can be enclosed with sliding doors, as well as motorized raised back and leg section options.
For more information, contact Tri W-G, (800) 437-8011; www.triwg.com